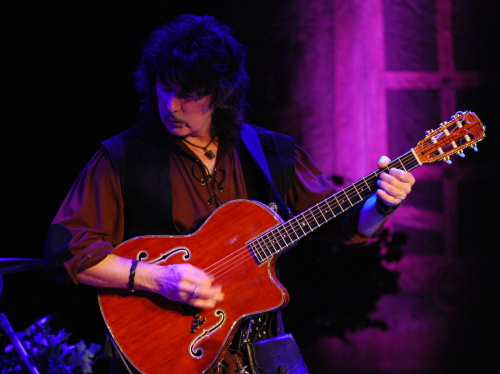 Guitar.com has more Blackmore quotes from his Sirius XM broadcast in April. On the nascient band that Chris Curtis was trying to form in early 1968:
I was living in Hamburg and I got a telegram from Chris Curtis saying 'Come on over, I need you. We're making a band'. headed over to England. I met Chris, who was obviously on some sort of medication and he said, 'Right. Are you ready?' and I went 'Well… who's in the band?
He went 'we have Jon Lord [on keys]' […] and I went, 'Well who's on bass?' and he went 'Well, I am,' so I said 'Okay, who's on drums?' and Chris went 'I am,' and I said 'oh, well that's great'. [Curtis then] goes 'I'm also playing first guitar… you're playing second guitar' and I went 'okay, so I'm playing second guitar to you? Very good' […] that's how we started Deep Purple.
[I remember that Lord and myself] met the managers involved and they thought [Curtis] was a little bit crazy. [When we both] got together, I said to Jon Lord 'Jon, this Chris Curtis… he's a bit of a strange guy, right?" and he said 'Yes'. […From then], Jon was probably my best friend in the band.
When [Jon] did pass away, it did affect me more than I thought it would, so I wrote the tune Carry On… Jon. It was very difficult to actually play that particular tune on stage without becoming emotional. This is for Jon.
Read more in Guitar.com