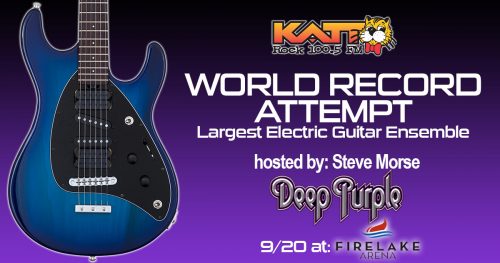 There will be an attempt to set the new world record for the 'largest electric guitar ensemble' on September 20 in Oklahoma City. This will take place at 5:00pm, right before the Deep Purple show at the Firelake Arena. The event will be hosted by Steve Morse and although there's no word on the programme, one can take a slightly educated guess. The event is sponsored by Ernie Ball and local promoters KATT. Registered participants will have a chance to win a MusicMan Steve Morse Signature guitar and tickets to the show (including a pair in front row and 25 pairs of lesser ones).
The Guinness certified record currently stands at 368 participants, albeit the ostensibly competing category of 'largest guitar ensemble' (note the lack of the 'electric' part) tops it at 6,346, that record having been set in 2009, once again with Steve's participation.
Register here.
Thanks to Yvonne for the info.