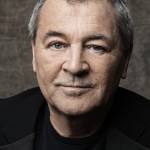 Ian Gillan sends a message about Deep Purple in Cyprus scheduled in May:
Dear Friends
There's a bit of a hoo-ha going on about our forthcoming show in Cyprus, so here are some thoughts on the issue.

As it says in the Caramba disclaimer, my views are not necessarily those of the rest of the guys in Deep Purple. So, please take this as a personal opinion; IMHO as I used to say.

We – DP – have never been on one side or the other when it comes to performing music. I remember – during the cold war – hearing about visits to London by the Bolshoi Ballet and the top football teams from Moscow, also the Cossack dancers, and many other cultural exchanges between The West and The Soviet Union. The diplomatic and cultural side door was always open for art, entertainment and sport, no matter how frightening and confrontational all the rest of it was.
Continue reading on Caramba!
Backgrounder: the gig is to take place in Northern Cyprus.
Thanks to Andrey Gusenkov for the info.