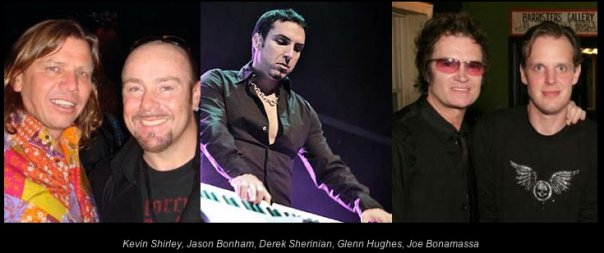 In Kevin Shirley's online diary, he confirms what Jason Bonham said about Black Country and also confirms the rumour that there is a keyboard player in the group. Maybe no one told Bonham that. 🙂
Kevin Shirley writes:
So there it is folks – the cat is out the bag! This is BLACK COUNTRY.

I am producing the debut album and we already have six tracks cut. We're going to do the next session in March when I'm through with my current project, and I hope to finish in early April. The band is Jason Bonham on drums, Derek Sherinian on keyboards, Glenn Hughes on bass and vocals and Joe Bonamassa on guitar and vocals. The songs are all original and what a lineup! They are all the very best players in the world, for my money!

Jason Bonham (Led Zeppelin, Foreigner) is a totally unique drummer and a supreme, yet oh-so-tasty powerhouse. Derek Sherinian (Dream Theater, Billy Idol, Alice Cooper) is super versatile, and is playing mostly overdriven Hammond organ in this ensemble and is the color on the palette. Glenn Hughes (Deep Purple, Trapeze) plays bass and sings with a range VERY, VERY few can even get close to, and Joe Bonamassa, perhaps the best Blues guitarist around, plays hard riffing guitar as well as adding his signature vocals alongside Glenn. You'll just have to wait – we're planning to get this out late summer, and it's promising to be phenomenal! Perhaps if you're around San Bernadino about March 17………
Meanwhile, Glenn Hughes' website has this to say:
There is a lot of speculation and talk about the new project that Glenn is involved with, and at this stage, all we can say, is that an official statement/announcement is forthcoming and will be made very soon. However, this will not be made until the time is right.
Joe Bonamassa comments on his Facebook page:
So it is out of the bag… I am in a band again.. Really cool bunch of guys who are so good. The first tracks are really great..
And here's a very small taster of what's to come. Hughes and Bonamassa joins Bonham at 2.20.