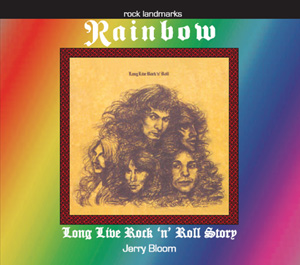 Jerry Bloom of More Black Than Purple fame has written a new book — Long Live Rock 'n' Roll Story — which covers history of the Rainbow album.
This book, the first in a planned series on 'landmark' rock albums focuses on Rainbow's 1978 release Long Live Rock 'n' Roll, a pivotal album within the band's roster.

Upon its release in April 1978 Long Live Rock 'n' Roll fans considered it a more commercial album than the previous two releases with indications that band leader Ritchie Blackmore was trying to steer the music towards obtaining greater commercial recognition within the world's biggest record market; America.

Having recorded the previous two albums in a combined period of barely over a month, Ritchie Blackmore's Rainbow's third studio album took almost a year to make. Recorded at the Strawberry Studios in the haunted Chateau d'Herouville near Paris, it was the last album to feature singer Ronnie James Dio, and saw the band struggle to cope with in-wranglings, sackings, sudden departures and intervention from the spiritual world!

Along with recollections from the band and crew, Ritchie Blackmore biographer Jerry Bloom details the full story behind the making of this 'landmark' album that included the classic songs Kill The King, Gates Of Babylon and Long Live Rock 'n' Roll.

With Blackmore steering Rainbow towards a much more commercial approach with the albums that followed, to many fans Long Live Rock 'n' Roll was the last Rainbow record to truly represent the style that the band originally set out to produce, with its blend of renaissance inspired chord progressions, and mystical, and medieval inspired lyrics. Includes a track by track analysis, selected discography & 8-page colour section, all combined in a 'CD size' book designed to sit on your shelf, alongside the album as its perfect companion.

An essential read for all fans of Rainbow and classic rock music in general.
Rainbow's Long Live Rock 'n' Roll Story by Jerry Bloom
Wymer Publishing
ISBN: 978-0-9557542-2-7
Format: paperback (125x140mm), 64 pp
Price: £7.99
Publication date: 5th June 2009
Category: Non-fiction
The book can be ordered directly from the publisher.
Thanks to Dima Zykov and Wymer Publishing for the info.