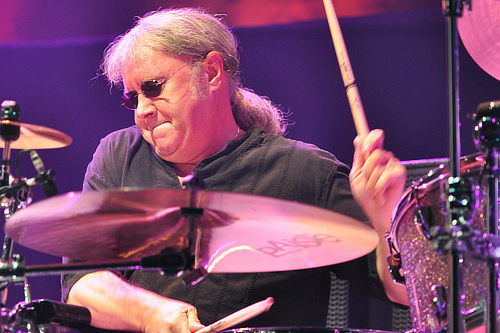 Louder Sound reprints an article from the Classic Rock magazine on how Paicey landed a Paul McCartney gig thanks to his neighbour.
If Ian Paice were ever trying to impress the person sitting next to him at a dinner party, he wouldn't be short of illustrious tales and celebrated collaborators to draw upon. The Deep Purple drummer has played with Whitesnake, Gary Moore, the Velvet Underground, Jeff Beck, George Harrison, William Shatner, and of course Deep Purple, which is why we just called him "the Deep Purple drummer".

You imagine near the top of this impressive roster of stars, though, is the time he got behind the kit for Paul McCartney, playing on the former Beatles' 1999 record Run Devil Run. He explained to Rhythm Magazine how it came about: "Paul and David Gilmour were friends from the past," he said. "George Harrison and I were great pals – he lived just a couple of miles down the road and our kids grew up together. I'd met Ringo but never McCartney.
Continue reading in Louder Sound.