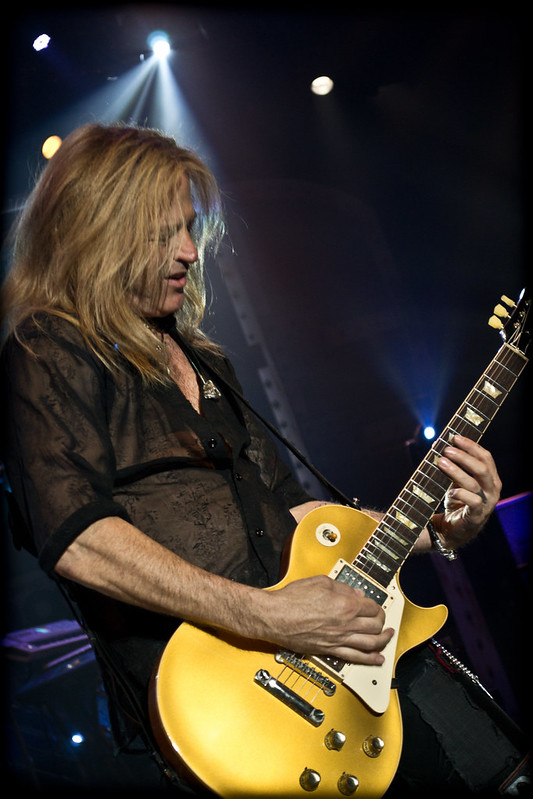 In this new interview with Blabbermouth, Doug Aldrich talks about working with the diverse vocal talents of Ronnie James Dio, David Coverdale and now Glenn Hughes — all members of the Purple family one way or another.
Blabbermouth: What was the situation like when Glenn came down with COVID-19 and you had to enlist Dino (Jelusick, vocals, WHITESNAKE) and Yogi (Lonich, bass)?

Doug: We were bummed. We were concerned because we tried to protect Glenn and make sure he didn't catch anything the whole time. In fact, when I caught it, David and I got it right before a big festival in France. We had to cancel the festival and the one the next day. David tested positive the next day, but I was still negative. To be safe, I tested myself again and I was negative. Then, I tested Glenn and he was negative. Later in the day, I tested myself again and was positive, so I was like, 'Oh, shit.' I was worried about Glenn catching it. We were just going to go home. We didn't want to do anything without Glenn. There was one thing — everyone was bummed because there were a couple of shows, one in Switzerland and in Germany, that were headline shows. We had promoted it and gotten so many people from other parts of the world who made plans to fly in. It was this extravaganza — basically, a hangout, a musical hangout. We were bummed we would have to make people change or cancel flights and hotels. All of a sudden, you know, everybody knows everybody — Yogi had been filling in already for a couple of shows over the years for David. Yogi knew the set. He had done one show with us and knew the set. Then, we didn't think of anything, but somebody said, 'Dino is home because WHITESNAKE just canceled because David [Coverdale] had a sinus thing.' I said, 'Wait a minute — both of those guys are in Croatia. That could work.' Of course, we didn't want to do anything without Glenn, but with his approval, we finished the tour and maintained our commitments. That's all we were trying to do. We didn't want to let the fans down who were planning to come party with the band. We carried on. It was nerve-wracking. I felt responsible for making sure we didn't suck.
Continue reading in Blabbermouth
Photo: © 2015 Eddietherocker, some rights reserved