We've mentioned this band before, when Ian Paice played with them, Purpendicular, one of the greatest Deep Purple tribute bands around (and competition is fierce).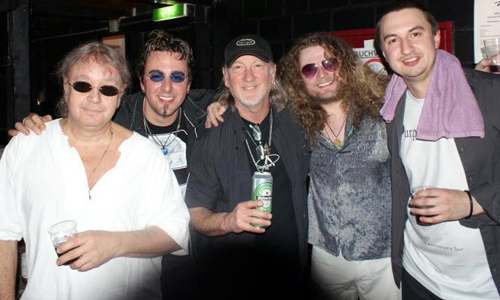 Purpendicular consist of UK and European musicians with the ability and determination to perform Deep Purple's music.

In 2012, Purpendicular criss-crossed the European continent with their 40th anniversary Machine Head show. For 2013 they've prepared something slightly more exotic – a 20th anniversary The Battle Rages On tour.
Since 1993, this tour has remained a favourite of mine, so naturally I have high hopes for Purpendicular's version. They usually come well prepared and always try to add something different to their set.
Celebrating Deep Purple's 1993 set – Come Hell Or High Water if you like – they promise to include The Battle Rages On tracks such as Anya, the title track, A Twist in the Tale and Talk About Love. But also older and newer tracks like Highway Star, Walk On, Mistreated, Child in Time, Fools, When a Blind Man Cries and a bit of Jon Lord's Concerto for Group and Orchestra to honour the late great Maestro.
I saw two of Purpendicular's shows in 2012, and even with a last-minute stand-in guitarist, they were spot on and showed both an excellent time for the audience and great respect for the music in a two-set evening of Purple tinted fun.
Further down this page, you'll see Purpendicular's elaborate tour schedule for 2013, but do check out also this clip from their tour last year. Beyond the shameless endorsement in the beginning, you'll see examples of both Purpendicular's music and and their tour antics… 🙂
Highly recommended.
http://www.youtube.com/watch?v=T_2lwg2GqYc#!
Purpendicular live in 2013
04.01.2013 Germany Straubing Raven
11.01.2013 Germany Berlin JWD
12.01.2013 Germany Dresden Tante Ju
28.01.2013 Russian Federation Moscow Svetlanov Hall
30.01.2013 Russian Federation Samara Maximilians
31.01.2013 Russian Federation Kazan Maximilians
08.02.2013 Germany Bremen Meisenfrei
09.02.2013 Germany Hamburg Downtown Blues Club
14.02.2013 Poland Wroclaw Firlej
15.02.2013 Poland Krakow Rotunda
16.02.2013 Poland Katowice Katofonia
22.02.2013 Germany Fulda Alte Piesel
23.02.2013 Germany Düsseldorf (Neuss) Hamtorkrug
01.03.2013 Switzerland Montreux NED Music Club
02.03.2013 France Samoens Le Bois aux Dames France
22.03.2013 Germany Maulbronn Live Music Park
30.03.2013 Netherlands Kerkrade Rock Temple
04.04.2013 Germany Hamburg Marias Ballroom
05.04.2013 Denmark Randers Tante Olga
26.04.2013 Germany Freiberg Tivoli
27.04.2013 Germany Plauen The Ranch
03.05.2013 Germany Köln Kantine
04.05.2013 Netherlands Sint-Michielsgestel Cafe Zaal Overberg
19.05.2013 UAE Dubai City Hall
06.07.2013 Germany Affalterbach 7 Eichen Open Air
06.09.2013 Netherlands Weert De Bosuil
05.10.2013 Germany Schortens Fair Cafe
06.10.2013 Germany Rheda Blues Club
18.10.2013 Germany Ebesbach OKV
19.10.2013 Germany Torgau Kulturbastion
27.11.2013 Belarus Minsk TBC
More info at www.purpendicular.eu
Also, drummer Bernhard Welz previously did a couple of Concerto concerts with Jon Lord, and also released a solo CD with several Purple members guesting.