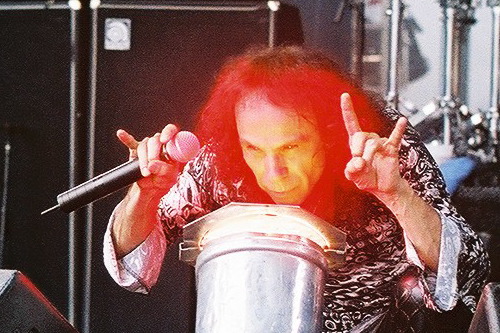 Ronnie James Dio, who is undergoing treatment for his cancer at a Houston hospital, sends his thanks for all the words of your support and encouragement:
I'd like to take the time to thank everyone for the most wonderful gift I have ever received — your good wishes, your prayers, your support, your tears and laughter, your anger, your rejoicing, and most of all the unwavering love you have bestowed upon me. I guess I've always felt that we were one person and that you've allowed me to be our spokesman, but until this time of my greatest peril, the truth was perhaps slightly hidden. It is hidden no more. Together we shall face the foe and live on to climb higher mountains and explore greater magic. Together we cannot fail.

Please accept my never-ending love and dedication to you all.

So it is written, and so it shall be.

Magic, from Ronnie James Dio
Meanwhile, Heaven & Hell have been confirmed to headline several open air festivals next summer in Europe, which tells me that Ronnie and his management are very optimistic about his prospects for speedy recovery.
Fans can send get-well cards via his official fan club. We are being promised that everything arrived to this address will be delivered into Ronnie's hands:
Dio Fan Club
12400 Ventura Boulevard, Suite 624
Studio City, CA
91604
USA
Thanks to Blabbermouth for the info.