This was quite a highly anticipated show for me. Last year down at the Hard Rock in Biloxi, we saw Purple and was able to chat with Roger and Don after the show.
Don revealed to me that he really wanted to play a gig at the historical Ryman Auditorium some day.
I remember posting this in my review last year and making points at how strange it is that Purple never plays in Nashville.
Especially now that they had recorded NOW WHAT with Bob Ezrin in Nashville it seems even weirder.
Well Don's wish came true this year and we were there to witness it. Finally, Deep Purple plays a gig in MUSIC CITY.
I was able to contact "Stoffer", another Purple fan whom contributes here at THS and we actually met up before the show.
We shared in some brews and food at a Bar and Grill just down from the Ryman on Broadway called "Rippy's Smokin' Rib House". Good music, beer and food.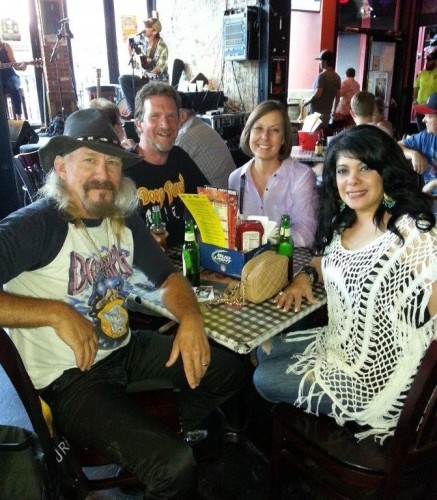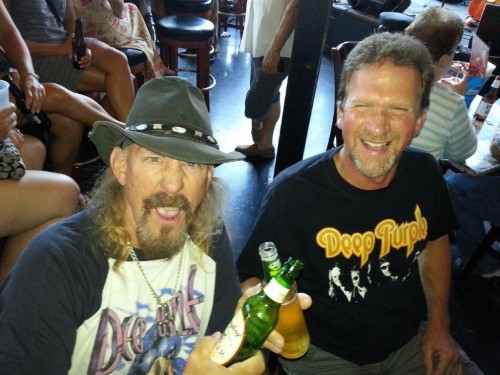 We still had some time before the show and headed across the street to "Tootsies".
Another popular watering hole where another band was playing that included a killer young female violinist who rocked the house.
Well it was time to head to the Ryman after throwing down a few more brews. Stoffer holding his and his wife's tickets, ready to rock.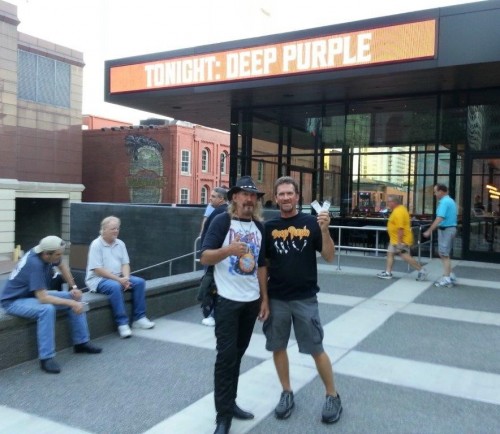 I then checked with 'Will Call' for a possible envelope for me and my wife containing some Guest Passes.
YES! Roger came through for us again. 2 passes for the after show Meet & Greet.
We entered the main door of the Ryman and parted ways. Stoffer and his wife headed up to their seats on the Balcony (gotta love the name).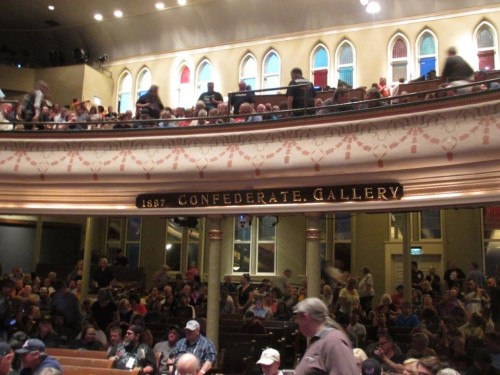 We went to ours on the main floor at row J over to left of center toward Rogers's side of the stage.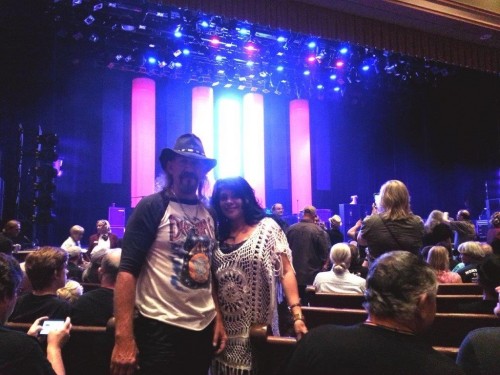 7:30 rolled around and the opening band started playing right on time. A 3 piece band that really was good called SIMO. See picture below.
They were a hard driving jam band with a sound that combines with Mountain, Govt. Mule, Cream and maybe Led Zep. There are some good
clips of them on YOUTUBE so check them out. Great opening act for Purple. They played around 45 minutes then Purple was to go on at 8:30.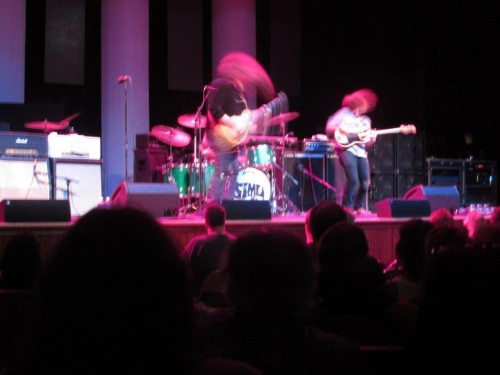 At promptly 8:30, the lights went down and intro began…. HERE COMES DEEP PURPLE!!!!!
They opened with a cranking rendition of Highway Star from Machinehead. The band had a couple of days off before this gig and it showed.
They were well rested and ready to ROCK the Old Opry House Down. Gillan came out balls to the wall and truly has taken back command of his voice.
He put on a few pounds also which I think is helping with his energy. Truly impressive.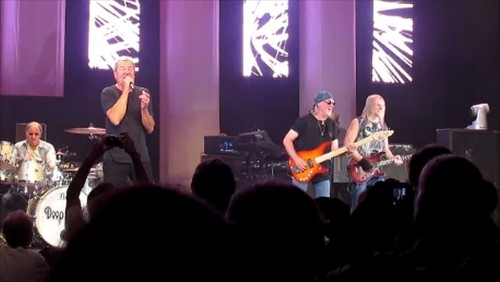 Next was Après Vous from NOW WHAT. This song really does work live and they did a great job with it.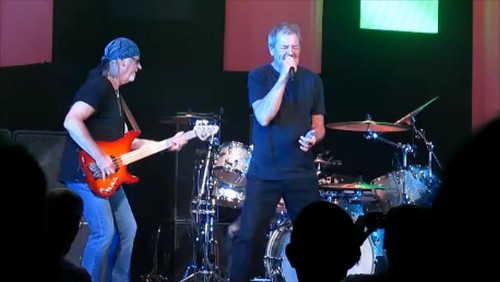 Next up was Hard Loving Man. They did another stellar performance of this old classic from In Rock.
Gillan brought out his GONG as usual and though I have seen this done a couple of times now, it is quite funny and the crowd loves it.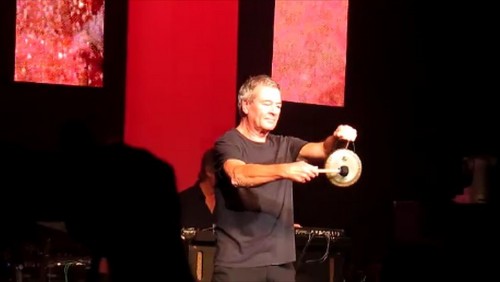 Strange Kind of Woman from Fireball followed and Gillan really shined on it with a great vocal/guitar battle with Steve Morse.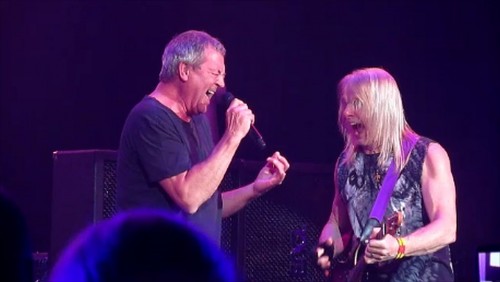 Back to NOW WHAT with Vincent Price. It has really become a great concert song and they have arranged it really well. Great reception too.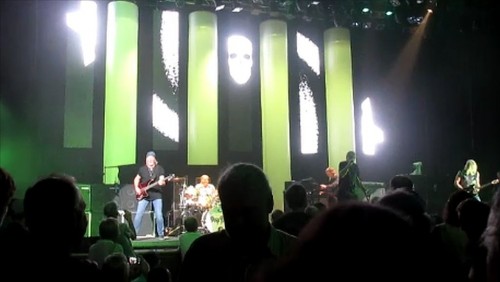 CONTACT LOST from Bananas came next. This song was originally about 2 minutes long but has now progressed into a 5 minute
intro into another NOW WHAT song… Uncommon Man which is a tribute to JON LORD and combined is really heart felt. CHILLS.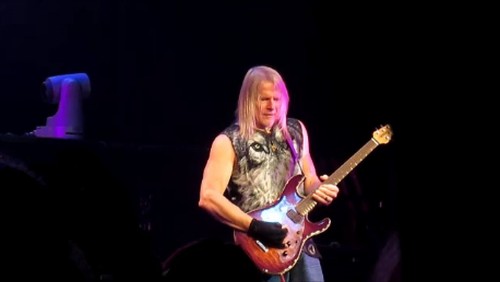 WELL DRESSED GUITAR from Rapture of the Deep followed. As much as I had grown a little tired of it, it has evolved into quite a crowd pleaser.
This is one song that fits better and better and the band has taken it to a much stronger level than when first introduced years back.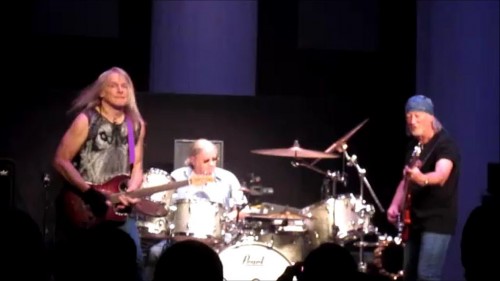 Ah yes, The MULE from Fireball along with a very well executed drum solo from IAN PAICE including his lighted sticks in the dark.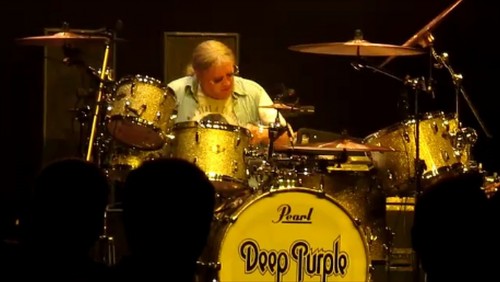 The loud growl of the Hammond from Don Airey lead into LAZY from Machine Head. The band really kicked in on this one.
Love seeing Ian Gillan break out his harmonica. He should re-establish use of the bongos too. Maybe some day.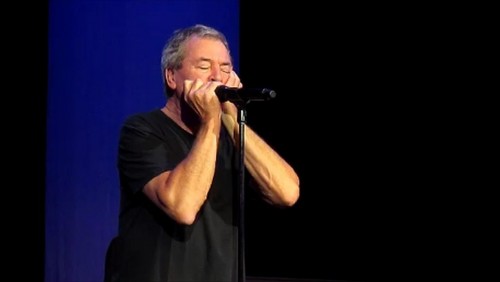 Yet another tune from NOW WHAT…. HELL TO PAY. This has actually become one of my favorite Live tunes. It has great energy and vibe.
Especially the middle of it where Don Airey takes off really gives it some punch. Awesome to see and hear the crowd interact on it also.
"GONNA BE HELL!" This would have been a major hit in the 80's. Gillan raising his fist…. "Up the revolution…..". GREAT STUFF!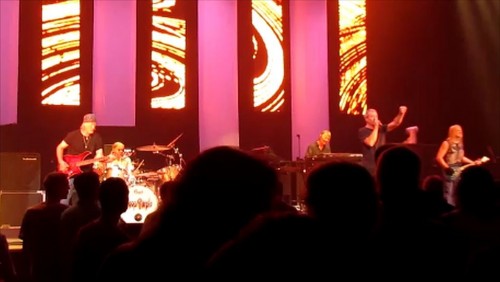 This leads into an awesome solo by Don Airey including some very touching Piano work that you just didn't want to end.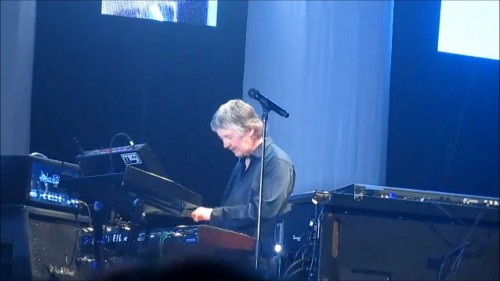 Then came the intro to PERFECT STRANGERS from Perfect Strangers. Another great crowd pleaser and never tiresome. Great rendition.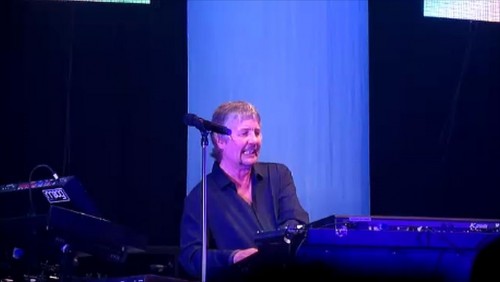 Big Ian introduces the next tune, SPACE TRUCKIN' from Machinehead and the crowd jumped up and got really involved.
Roger really let loose on this one. He even mimed playing the drum roll at the beginning. Big Ian got a kick out of it.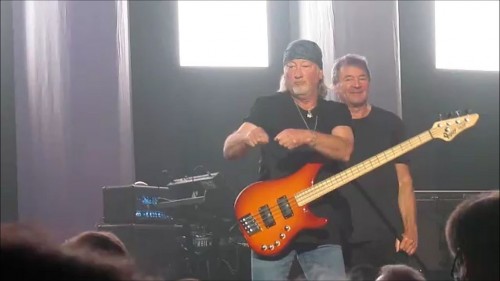 The final song of the main set? SMOKE ON THE WATER with a 1 minute long intro of a song by Steve Morse that I didn't recognize but the crowd did
and were very responsive. SOTW might be old and warn out to me but the crowd loves it and brings the house down every time.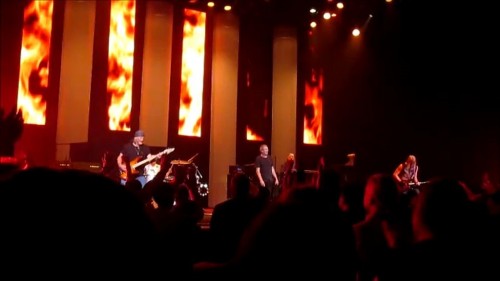 With a farewell and typical walk off stage moment, they waved in appreciation to the audience throwing pics and drum sticks out to the crowd.
Roger motioned and pointed to each of the band members and they acknowledged back while the crowd cheered for each.
They left the stage momentarily but returned quickly due to the roaring demand from a very engaged audience again with thanks from the band
for a blistering encore which began with a nice1 minute sampling of GREEN ONIONS which was the intro to HUSH.
Another tune that brought down the house including a great keyboard and guitar duel from Don and Steve. Nicely done for sure.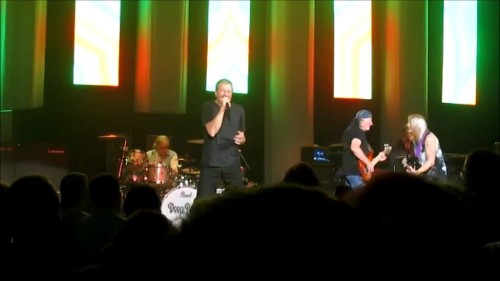 Finally and unfortunately, the final song of an incredible show beginning with a very well done Bass Solo intro from Roger.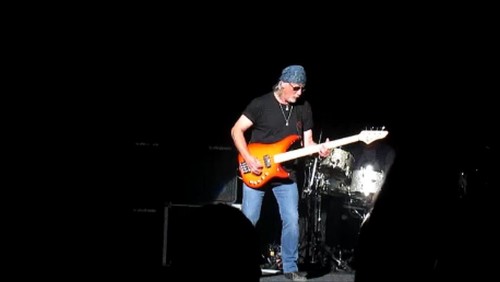 which lead into BLACK NIGHT.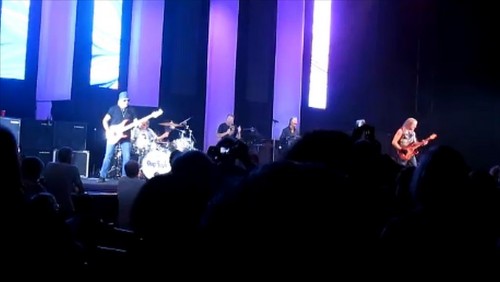 And once again, the farewell ensues and the band again graciously thanks the audience and waves, threw pics and drum sticks out to the crowd.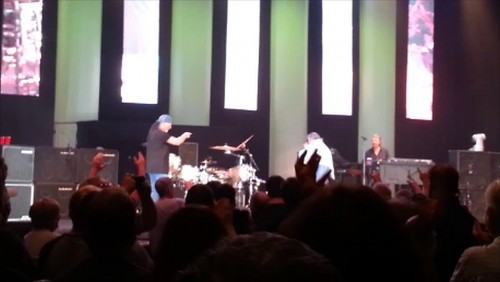 The show may be over, but the night is long from over. Time to head back to the Hospitality Room and chat with the band.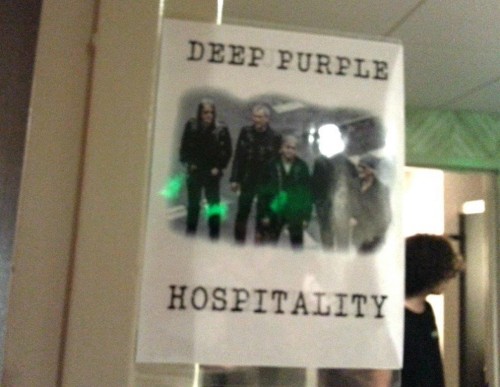 First of all, we spent some time with Roger whom came through again. The beer was flowing and there were a lot of folks back there so they
were spread pretty thin regarding one on one chat time. As usual though, they really try and accommodate.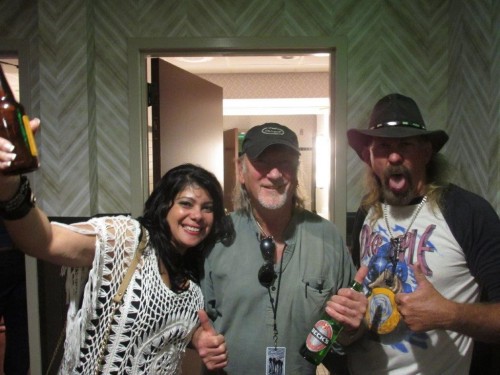 Don Airey as usual is his delectable and distinguished self sipping on a glass of wine. CHEERZ DON!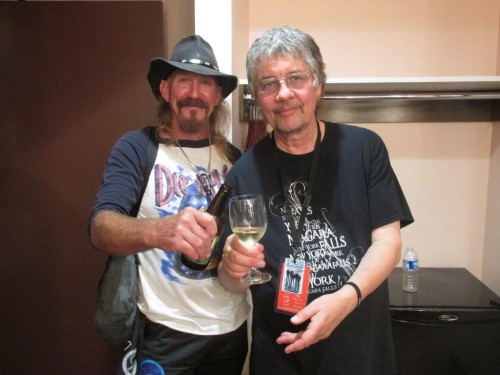 Steve Morse had a huge crowd that he brought in from down in Florida, including Sarah Spencer whom he
recorded the album "Angel Fire" with, and it took him a while to get out and mingle with the rest of us but he did and shared a story with us
regarding the last time he played the Ryman with his band around 10 years ago and was sabotaged before the show by a rival guitar company.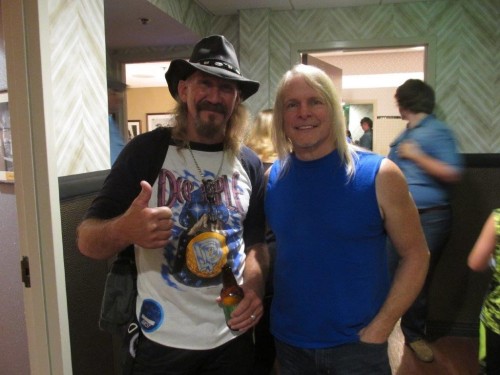 Then my all time favorite drummer and drumming mentor. IAN PAICE approached. Man talk about a kid in a candy store. THAT WOULD BE ME!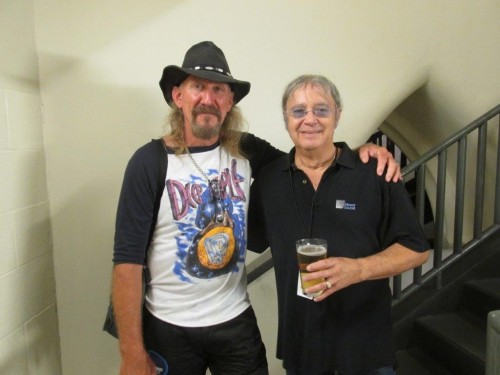 Ian Gillan didn't make it to the Greet. Based on how well he is singing, I think he is really taking care of himself on tour and cutting down on too much
Interaction with us Strange Folk. Less chance of catching a bug and also allows for some good rest. Wish he had come down though. Still have that
one of a kind album sleeve from his solo career that I am trying to get him to see and sign. Maybe next time. As a bonus, I was invited to hang out
with them the next evening at an Irish Pub along with some friends they made during the recording of NOW WHAT. So I did just that.
Don Airey and Roger arrived along with a local band that plays this pub and some other friends. I got to sit at the bar with Roger and Don chat and throw
down a couple of ales. Great little pub with some great food. What a great time I had seeing my favorite band in the world and being able to
Sit and chat with them also. Please don't wake me from this lifetime dream I am living……
Well all I can say here is that I was truly impressed with the band and their performance. I remember 10 years ago when they finally came out
with Rapture of the Deep after almost 8 years since the previous album Bananas before saying, This is going to be the last time we see them.
But, every year they prove me wrong and hit the road again and each time over the last 5 years, they actually seem to be getting better and better.
Gillan really did surprise me with his energy and power on that stage. I have said it before and I will say it again….. GO SEE THEM! They are slated to go into
the studio around February and are pushing to get an album out before the end of 2016. Bob Ezrin was in attendance also here at this show.
Can't wait for that and yet another chance to see them live. As with most here at THS, I would also like more songs from other MK7/8 albums.
Also it is time to exchange out a couple of NOW WHAT songs. Drop Après Vous for either Weirdistan or Out of Hand.
These are perfect live songs that have yet to be played. Still going to bitch here about the
the time frame also. No less than 2 hours should be played. 90 minute sets from a band like this is way too short and that extra 30 minutes allows
for just the right amount of time to really throw in some good obscure stuff along with the 5 or 6 staples that must be played. Yes I know, I am
a broken record regarding this issue but I know I am not alone in this. Most folks have to shell out lots of money and drive a long way to see Purple
because they only hit a small section of the States each time and like myself, the majority of folks go on a long road trip or fly to see them.
2 HOURS! PLEASE!
My buddy Stoffer is a perfect example. He drove down from St. Louis. When you are a band that draws in a fan base like that, you have to give back.
OK, I will get off the pulpit now and close with this. We are just 3 years away from Deep Purple's 50th Anniversary. I feel fairly confident they have a
desire to be around for that so I am comfortable with the fact that there should be some more time to see these amazing players live over the next few
years. By all means go and see them as often as you can. When is over it is over. Don't let a show pass you by if you can make it there.
CH-BEERZ
Tracy (Zero the Hero) Heyder