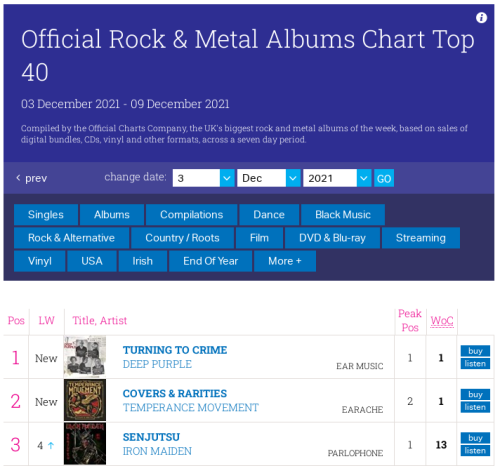 Turning to Crime didn't make it in the charts as far as its predecessors. But consider this: at any other time such recording would probably be relegated to a bonus disk for some tour edition of a "proper" album. So, not too too bad, all things considered.
Send us any missing information — with proof links — as to how the album did in your country.
Chart positions summary
Countries and territories are listed in alphabetical order.
The album was released worldwide on November 26, 2021.
This list was last updated on Thu Dec 16 01:32 UTC 2021.
Australia
Austria
Belgium
Brazil
Canada
iTunes Daily Albums: #20 (Nov 26), #20 (Nov 27), #77 (Nov 28), #91 (Nov 29), #53 (Nov 30), #90 (Dec 2)
Czech Republic
Denmark
Europe
Finland
France
Germany
Italy
Netherlands
Norway
Poland
Spain
Sweden
Switzerland
United Kingdom
United States
World