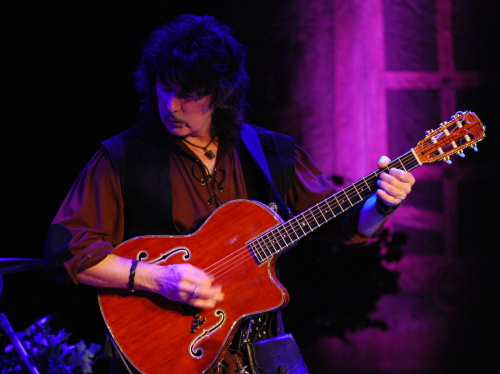 Guitar.com has published a profile of Ritchie Blackmore as a part in their 'essential guides' series. There's probably not much new in there for our regulars, but it's a reasonably nice writeup for the uninitiated, with a few quotes from the man himself.
A figure who wielded his Fender Strats like Excalibur? The forefather of neo-classical shred? A believer in the mystical, wearing tights and playing old madrigals? It can only be great Ritchie Blackmore.

Every player has likely heard of Ritchie Blackmore. But it is plausible that he's actually overlooked somewhat in the guitar pantheon, given the yards of coverage and acclaim given to, say, Jimmy Page? Yes, it is.

These two behemoths of classic British rock are broadly the same age, and have both influenced myriad players. If anything, Blackmore has trodden a more diverse path – crunching hard rock in Deep Purple, wizardly metal to pop-AOR in Rainbow and unique acoustic reveries in Blackmore's Night. The latter will never have the cachet of Led Zeppelin III though, so – to perhaps too many – Ritchie Blackmore is someone who used to be famous. But for sheer skill, ambition and – let's cut to the core – simply bamboozling guitar mastery, Blackmore is very much Page's peer.
Continue reading in Guitar.com.
Thanks to Gary Poronovich for the info.