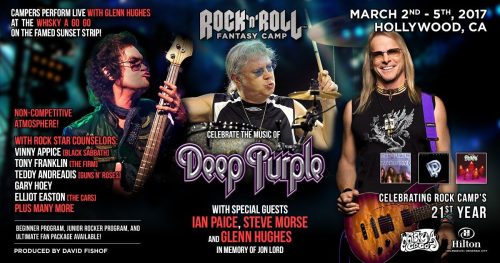 Ian Paice, Steve Morse and Glenn Hughes will take part in the Purple themed Rock and Roll Fantasy Camp that will take place in Hollywood, California, on March 2-5, 2017.
The idea behind Rock and Roll Fantasy Camps is to "give the public the experience of living the life of a Rock Star, with Rock Stars, for a few days, and gain their knowledge along the way".
This camp will include jams and master classes with the three stars, along with 'camp councelors' that list Vinny Appice and Joel Hekstra in their ranks, among other equally accomplished musicians. The camp concludes with the grand finale of Glenn Hughes performing at the Whisky A Go Go.
Living the life of a rock star doesn't come cheap, and packages vary from $799 for a groupie (access to meet and greets, master classes, and a ticket to Whisky A Go Go) to $7749 for a headline/recording one (private jam with Paicey, Steve and Glenn, performing live with Glenn at the Whisky A Go Go, 8 hour studio session with a yet unnamed 'famed producer', plus the kitchen sink). And that does not include accommodation.
The packages are now on sale with early bird discounts before November 1. Tickets to the Whisky a Go Go show might probably be also available separately at some point in the future.
Any further questions can be resolved by either visiting www.rockcamp.com or contacting Monica Michaels at (888) 762-2263 ext. 7 or monica@rockcamp.com.