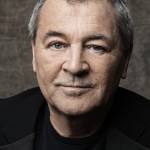 Ian Gillan has an interview in Cricket Monthly, of all places. He talks about his passion and how his dayjob interferes with it:
What is your favourite ground to watch cricket?
I don't get to a lot of cricket because I'm on the road non-stop. We played in 54 countries last year, so I have to watch it on TV, and when I can't do that, I keep up on the computer.
Read more in Cricket Monthly (if you're into that sort of thing, that is).
Thanks to Marcus Streets for the info.