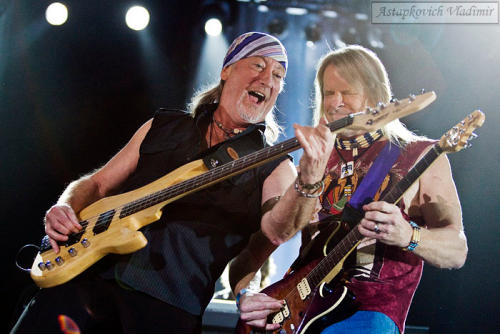 We now have 15 confirmed dates for this summer Deep Purple US tour, plus one very unconfirmed Canadian one.
The tour will start on July 14 in Lewiston, NY, and finish on August 16 in Saratoga, CA. Ticket information is still rather sketchy at this point, but when it is available, the tickets will be going on sale within days. There are some presales here and there, but at this point we have absolutely zero info on how to get into one. Please post comments below or at the relevant date if you find out.
Update (Mar 24): for Lynn, MA, show turns out that the "Fan Club" is one for the venue, not the band. Presale code is 'Deep'. It might be advisable to check with other venues directly for presale passwords.
There's still a gap in the announced schedule from July 14 to July 22nd. As I was posting the dates, the news arrived that lineup for this year Ottawa Bluesfest was leaked, and the band will be headlining on Saturday, July 18th. Fingers crossed, other Canadian dates may follow.
Full details in our calendar.
Thanks to Rich Shailor and Jim Corrigan for the info.