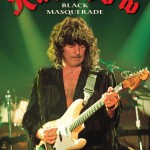 Rainbow's live album Black Masquerade, recorded in 1995 and released on CD and DVD last year will get the vinyl treatment. Independent label Back on Black has announced that it will release the 3LP album on April 19, 2014 on red vinyl (catalogue number RCV142LP).
SIDE A
1. Introduction
2. Spotlight Kid
3. Too Late For Tears
SIDE B
4. Long Live Rock'n'Roll/Black Night
5. Hunting Humans
SIDE C
6. Wolf To The Moon/Difficult To Cure
7. Keyboard solo
8. Still I'm Sad
SIDE D
9. Man On The Silver Mountain
10. Temple Of The King
11. Black Masquerade
SIDE E
12. Ariel 8:23
13. Since You've Been Gone
14. Perfect Strangers
15. Sixteenth Century Greensleeves
SIDE F
16. Hall Of The Mountain King
17. Burn
18. Smoke On The Water
The label's releases can be ordered through Plastic Head online store.
Thanks to Alex Chornyy for the info.