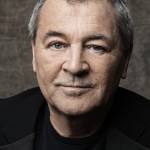 Karolina Karbownik and Jakub Michalski did an interview with Ian Gillan for the Polish magazine Rock Axxess:
Your last album, Now What?!, is really great, I love it. However, it seems like you were not in a hurry to record new songs.

It's true. We weren't in a hurry at all. In fact, we would meet in a bar from time to time and somebody would say, "what about the new album?" And somebody else would say, "well, yeah, maybe next year". That was the way we looked at it because we were having such a great time on the road and the main thing for us is the live performance. And then we had a meeting with Bob Ezrin, our producer. It was quite fascinating what came out of that. I think we remembered a lot of things we might have forgotten, particularly that Deep Purple is primarily an instrumental band. We make music and put the songs on top. I know that sounds strange but I've never done that with anyone before – other writers or other bands. And another thing is, he said: "Don't worry about the length of the stuff, don't think about it. Let the ideas develop naturally and do what you do on stage every night." So that really got us interested and of course we went into the studio with an added bonus of Bob being not only a great music producer, but also a guy that's been around for a long time, so we respect his wisdom and judgment, and he became almost a sixth member of the band. So yeah, it was a long time but it was worth waiting and we enjoyed it.
The interview appears in Rock Axxess issue 15-16, which you can read online here and here (try the other link if one does not work for you) or download a PDF file (67.3 MB). The Polish version of the interview appears starting on page 6 with English one on page 15.
Thanks to Jakub Michalski for the info.