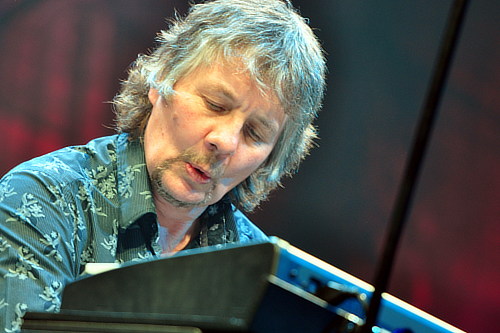 An interesting chat with rather rarely interviewed Don Airey have appeared on Hungarian ekultura.hu before the start of current Don's solo tour.
On his solo career:
ekultura.hu: What happened after your second album with Deep Purple? What prompted you to launch a new solo career?

Don Airey: Ed van Zijl from Mascot Records offered me a record deal – I think he was fed up with just signing guitar players to his label. There was a gap in Purple's schedule so I wrote some songs around the theme of astronomy, (a hobby of mine), booked studio time and musicians and went and made a record (Light in the Sky).
On Jon Lord and Deep Purple:
ekultura.hu: On a totally different note, how did the death of Jon Lord affect you personally?

Don Airey: I lost someone whose playing and quintessential Englishness I admired immensely, and who over the last ten years had been kindness itself to my tech son Mike, and myself. We were in the middle of recording the new DP album in Nashville when the awful news about Jon came through. It was difficult to get anything done for the next couple of days.

ekultura.hu: How does your solo project relate to what Deep Purple is doing now? Will it in any way have an impact on the music of the new album of the band?

Don Airey: It is separate – a whole different vibe! There is nothing in the world quite like Deep Purple I have to say.
Read more on ekultura.hu.
Thanks to Yvonne Osthausen for the info.