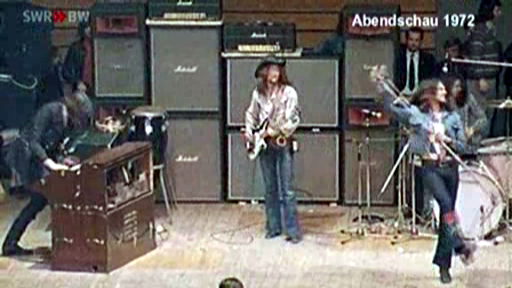 On June 8 German TV station SWR Baden-Württemberg aired an interview with a local photographer Harald Kümmel. Harald was an enthusiastic concert goer back in the seventies and took a lot of pictures from the concerts which he attended. He showed his photo album to the host and talked about some backstage memories from that days, including a story about Jon Lord — when Jon invited Harald into his old VW Beetle, rolled a joint and chatted with Harald about music and other things for 20 minutes.
The highlight of the interview was a historic report of the February 10th, 1972 Deep Purple concert at the Stuttgart Böblingen Sporthalle from the local TV channel, including footage of the audience, band performing Fireball and Highway Star and hanging out backstage.
The interview can be viewed online at SWR.de, with the 1972 report starting at approximately 4:20 into the clip.
Thanks to Claus Dornhard for the info.