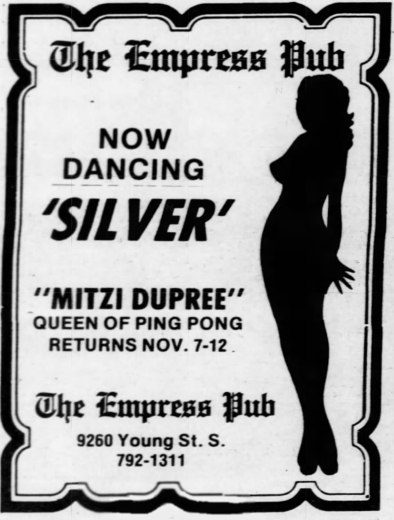 Back in 2016 Toronto Sun run a story about a legendary, uhm, entertainer that some 30-odd years earlier fascinated both Canadian lumberjacks and a certain British rock star.
Western Canada in the early 1980s was a lot like Western Canada now, burdened with a sputtering economy and a lot of long faces to go with the doom, gloom and daily unemployment statistics.

That may explain why something so hilarious, pointless and vulgar captured the popular imagination of the time so completely: There was nothing serious about Mitzi Dupree, and love the act or hate it, she offered a distraction and something to talk about that could only leave people blushing and laughing.

Unless you were the Kamloops RCMP of course, in which case, ping-pong balls were suddenly very serious business.

In October 1981, after a local newspaper reporter broke the story of the ping-pong ball sensation at the Bar-K, police filed charges against Dupree under her real name (Michelle Pradia), claiming the 22-year-old American dancer had violated local obscenity laws.

Of course, a phalanx of cops had been forced to watch the entire show in Thompson's sold-out bar to reach this conclusion, and so on Jan. 12, Dupree went to trial to explain herself and her unusual talents to a judge.
Read more in Toronto Sun.
Thanks to Mark Bryant for the heads up.