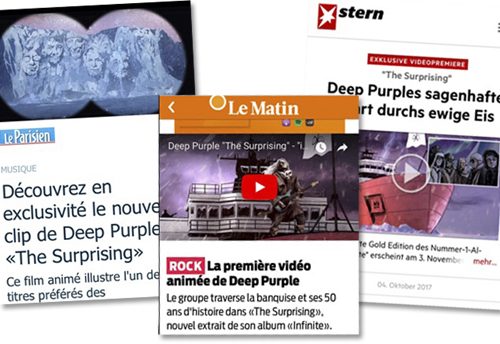 If you cannot view Deep Purple's new video for The Surprising, you probably don't live in the United States, Germany, France, Italy or Switzerland.
These countries have been given first dips on the video together with prominent media coverage earlier today, October 4.
In Germany, Stern were able to show The Surprising video exclusively to their readers, while in France, Italy, the United States and Switzerland other media did the same.
Ultimate Classic Rock, USA
Le Matin, Switzerland
Le Parisien, France
Virgin Radio, Italy
On October 5, the new video will be made available for everybody to watch in every territory.
This is all part of Deep Purple's record label earMUSIC's concerted effort at garnering as much attention as possible for three new releases: the 2CD Gold Edition of the InFinite album, the stand alone Blu-ray edition of the From Here to InFinite documentary and the 3LP vinyl The inFinite Live Recordings, Pt. 1. Read more details.
This time earMUSIC has created an animated cartoon video showing Deep Purple looking forward while honouring their past. In the video, the band's studio albums are all represented, and you're challenged to spot them all as the video plays. But is one album missing? See for yourself when the video is released in your country.