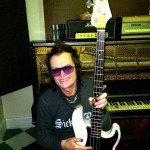 Glenn Hughes recently spoke to GuitCast podcast (even though he's not exactly known for his guitar playing skills).
On his knee surgery:
I was privately in a wheelchair for a couple weeks at the end of my Asian tour last December, knowing full well when I got home that that I was going to have the surgery done.
Regarding a new album:
I'm gonna go to Copenhagen the last week of June, I'm gonna start making the Glenn Hughes solo album. Normally it takes me a couple of weeks to get that, then I'm mixing so by the end of July I'll have an album ready to roll.
On the HoF induction ceremony and who will perform there:
We won't know anything until we get into rehearsals next Thursday, April 7th.
Glenn's interview starts at around 31:35 into the podcast:

Thanks to Shawn for the info.