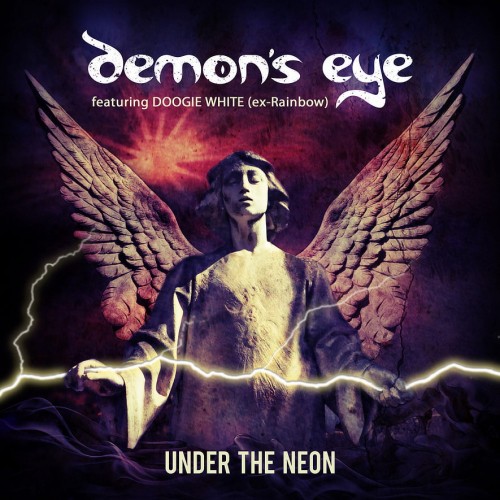 Demon's Eye started as a Purple cover band back in 1998, and progressively graduated into playing their own music. They are releasing a second album of original material — called Under the Neon — in September. This is again a collaboration with Doogie White, who did vocals on the album. Their previous effort The Stranger Within came out in 2011 and was very Rainbow-esque, to the point that truly your characterized is as sounding like a follow up to Stranger in Us All. Well, if the first preview track is any indication, the band has definitely matured, and while the influences are unmistakably there, this is a very solid original effort. It would not find itself out of place on any family tree album.
Judge for yourself:
Lineup:
Doogie White – Vocals
Mark Zyk – Guitars
Gert-Jan Naus – Organ & Keyboards
Andree Schneider – Drums
Maik Keller – Bass
Track listing:
Epic
Road to Glory
Closer to Heaven
Five Knuckle Shuffle
Welcome to my World
Finest Moment
Fallen Angel
Master of Destiny
Dancing on Air
Blood Red Sky
The Messenger
Total Time: 53:04
Produced by:
Andree Schneider
The album is due out on September 18 and can be preordered from the band's website.
Demon's Eye featuring Doogie White on Tour:
02nd Oct. 2015 D-Siegburg, Kubana
03rd Oct. 2015 D-Siegen, Lyz
04th Oct. 2015 NL-Limburg, Asta Theater
09th Oct. 2015 D- Soest, Alter Schlachthof
10th Oct. 2015 D-Bensheim, Musiktheater Rex
11th Oct. 2015 D-Karlsruhe, Festhalle Durlach
15th Oct. 2015 D-Wilhelmshaven, Pumpwerk
16th Oct. 2015 D-Dortmund, Musiktheater Piano
17th Oct. 2015 D-Isernhagen, Blues Garage