As previously reported exclusively by The Highway Star, seven rolls of 8mm film from Deep Purple's 1972 concerts in Japan have come to light.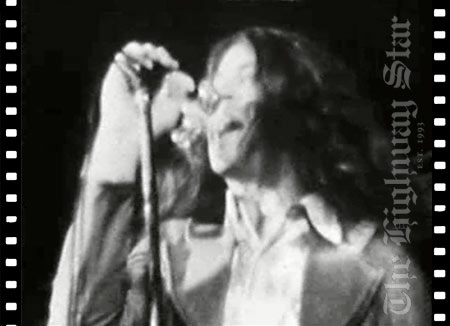 We also promised you a look at the film. Click on this photo to see a series of screen grabs from the black & white film.
90 seconds of Highway Star from this film will be included in the History section of the upcoming 2DVD set "History, Hits & Highlights".
The clip is filmed from right in front of the stage. At first the band is seen walking casually onto the stage, then they tear into the song. Filmed on 8mm, the quality is obviously not comparable to modern day High Definition footage, but the energy of the band is unmistakable.

The full confirmed track list for "History, Hits & Highlights" is now set to look like this:
UPDATE: THS readers made the producers aware of a couple of mistakes in the track list. Strange Kind Of Woman is indeed the Top Of The Pops recording, but obviously not 10 minutes long. Also, the No No No rehearsals are from Beat Club, Never Before is the promo clip.
Disc 1
History (20.00 – documentary including Made In Japan footage)
Help (5:21 – Danish TV)
Hush (3:30 – Playboy After Dark)
Wring That Neck (3:20 – Canadian TV)
Hallelujah (3:42 – Beat Club)
Mandrake Root (12:08 – Southbank)
Speed King (4:13 – WDR Vicky Leandros)
Black Night (3:10 – Top Of The Pops)
Child In Time (9:36 – Doing Their Thing)
Lazy (11:06 – Copenhagen 1972)
Strange Kind Of Woman (3:55 – Top Of The Pops) *updated
Fireball writing session (silent) (3:58 – ABC TV Australia)
Fireball (3:26 – Disco ZDF)
Demon's Eye (10:09 – RBB Germany)
No No No (7:15 – Beat Club)
Into The Fire (3:57 – RBB Germany)
Never Before (3:29 – promo) *updated
Highway Star (6:04 – Beat Club)
Smoke On The Water (4:47 – Hofstra)
Burn (6:35 – London 74 / Polytechnic Project)
Mistreated (10:24 – California Jam)
Love Child (4:20 – Tokyo 75)
You Keep On Moving (5:42 – Tokyo 75)

Disc 2
And The Address (2:55 – Playboy After Dark)
Wring That Neck (24:19 – Bilzen Jazz Festival 1969)
Wring That Neck (11:19 – Pop Deux' Paris 1970)
Mandrake Root (15:01 – Pop Deux' Paris 1970)
Black Night . (3:15 – Promo clip)
No No No (rehearsals) (15:00 – Beat Club) *updated
Jt Nuit' French TV 1974 (3:08 – INA France)
Burn (6:35 – Leeds Polytechnic Project 1974)
Interview (Leeds Polytechnic Project 1974)
Space Truckin' (10:00 – Leeds Polytechnic Project 1974)
New Zealand TV Doc Nov 1975 (23:06 – New Zealand TV 1975)
Smoke On The Water (3:00 – New Zealand TV 1975)
Tony Edwards (DP manager) interview (2:11 – French TV 1976)