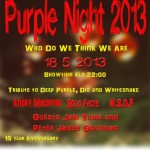 Perfect Strangers of Finland is celebrating their 15th anniversary by organizing a traditional Purple Night concert. Who Do We Think We Are will be the theme for this Purple Night, which is being held for the fifth year in a row now.
What:
Solid Faces (Pietarsaari): the band that toured with Doogie White in 2009. They will perform a set of Purple covers.
Angry Machines (Oulu): will perform a set of Dio, commemorating 30th anniversary of Holy Diver.
White Shade of Purple (Kouvola): will play mostly music of Whitesnake.
Guest singers for the night will be Jari Tiura (e.g. Former Michael Schenker Group, Stargazery) and Peter James Goodman (e.g. Conquest, Purple Society).
When: Saturday, May 18, 2013, from 9pm — 4am.
Where: Virgin Oil, Kaivopiha, Mannerheimintie 5, Helsinki, Finland.
Tickets: €12/€14 at www.tiketti.fi.
Thanks to Jari Kaikkonen for the info.