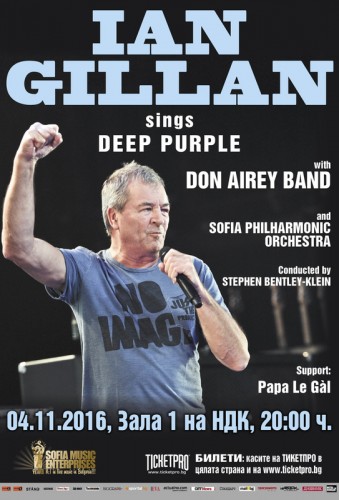 Today Ian Gillan and Don Airey band start their orchestral tour of Eastern Europe. They are playing with local orchestras, so, naturally, there is a fair bit of rehearsing going on before each show.
Before the tour started, Big Ian spoke to Moscow newspaper Kommersant. Besides plugging in his daughter's band Papa Le Gal (they're supporting), he mentioned that several Purple rarities have been rehearsed for this tour, giving Razzle Dazzle, Unwritten Law and Anya as examples. Regarding the new Purple album, he said that it's coming out in February, after which the band will embark on another couple of years long world tour. He also said that he has 38 rough song ideas on his computer for a solo album, but no immediate plans to proceed with it.
Meanwhile, in Bulgaria, he appeared November 1 on local TV on the Slavi Show. Video clips have been posted online at slavishow.com.
Thanks to Andrey Gusenkov and Space Truckin (via deep-purple.ru).