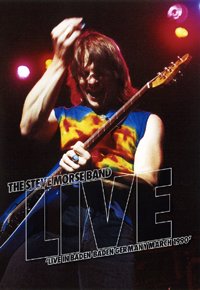 Guitar Virtuosity At It's Finest
Thanks to the folks at Wienerworld, who seem to have made an art of finding obscure material that has dropped by the wayside, another musical gem has been rescued from obscurity. This time, it's the Steve Morse Band at the time they were just starting to find their musical identity and develop into the power trio they were to become.
This performance comes from the tour following the release of the Grammy-nominated "High Tension Wires", which was an exceptional mix of material ranging from pyrotechnic guitar rockers and achingly beautiful ballads. Although the album was recorded by Steve Morse with the occasional help of ex-Dregs, it is being performed here by the musicians who would go onto to produce several subsequent records together over the next decade.
This might explain why the setlist only contains three songs from "High Tension Wires", and instead mostly relies on a number of songs from Steve Morse's first solo record, some Dixie Dregs favorites, and some material that would appear on the "Southern Steel" record the following year. As a result, you get an excellent overview of Steve's career to this point, played by musicians who are masters at their craft.
That could be taken to mean we will be presented with a sterile clinic of technique, and to a certain extent that is true, but the musicians are sufficiently talented to overcome the technical aspects of the material and add soul to the music. There are certainly moments of flash (see "Tumeni Notes", for example) but they are counterbalanced by songs like "Highland Wedding" or "Night Meets Light", which simply a joy to listen to every time.
This DVD will appeal to any student of the guitar, to anyone interested in seeing the nascent Steve Morse Band that would end the decade giving us power rock albums such as "Stressfest", or simply to anyone willing to bask in the glow of great instrumental songs, expertly played. A recommended purchase.
Wolf Schneider
Vancouver, BC / Canada
Last update: August 29, 2006