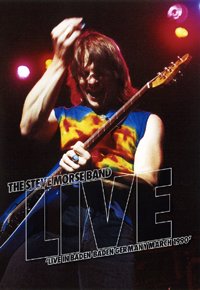 Jump On This
One of my favorite things about the DVD format is that it seems cheap enough to produce the discs, so that it's worth the investment to dig up old archive recordings which may not have the widest appeal in today's world and put them out on the market.
One interesting archive seems to be that of the German tv show "Ohne Filter". "Without Filter" is the English translation of the name and that certainly is true for these shows. This is old school music tv, with musicians on a stage performing their music in front of an enthusiastic crowd. The cameras stay long enough on each picture to let us see what is happening on stage and we are not forced to watch bad interviews done by journalists with no interest for the music.
The main ingredient in this soup of power trio based jazz/rock/country fusion is a 56 minute, 12 song show from 1990. Steve Morse is backed up by Van Romaine on drums and Dave LaRue on bass. The trio blends high energy tracks like "The Introduction" and "Tumeni Notes" with beautiful slow songs like "Highland Wedding" and the guitar/bass duet "Point Counterpoint". Near the end we are taken back to the Dixie Dregs days with the country classic "Pride o' the Farm".
The bonus material is four songs from "Ohne Filter" in 1984 and one promotional video for the song "Cruise Missile". Both feature a different line-up from the 1990 show, this time with Rod Morgenstein on drums and Jerry Peek on bass.
The 1984 songs show Morse as I remember him from the first time I saw him, very long straight hair and his classic custom Telecaster packed with microphones. It's especially nice to see Morse play the solo acoustic piece "Northern Lights".
The promo video is mostly a performance video with the band on a stage, except for an opening sequence where the band arrives in a plane. Probably an idea from the pilot, Captain Morse himself.
The technical quality of the dvd is very good. The video transfer looks good and you get two soundtracks to choose from, DD 2.0 and DD 5.0.
This kind of intense instrumental music is of course not for everyone so anyone having trouble listening to an hour and a half of guitar solos should probably stay away. But are you a Morse fan and/or a guitarist, or even a bass player or a drummer, or just a fan of this kind of music, you'll want to jump on this and enjoy looking and listening to how easy these guys make it all look.
Svante Axbacke
Malmo, Sweden
Last update: August 29, 2006