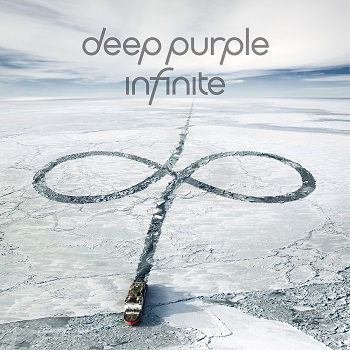 In an unexpected move (first single was originally promised not until January 20), the record company publicised today the artwork, release date — April 7, and the first single from Deep Purple's new album inFinite — Time for Bedlam:
The song will be available as instant grat as part of the digital album preorder as well as on all streaming platforms starting from Thursday, December 15th, midnight worldwide with the physical preorder of the album to start at the same time.
A limited edition EP for Time for bedlam, with non-album songs and unreleased recording will hit the shops on February 3.
A documentary movie, witnessing the songwriting process and the recording of the album with producer Bob Ezrin has been produced, allowing fans to be part of the private band member interactions in the studio. The movie will be included in some editions of the album and it will be presented before release in various fan events worldwide.
Useless, but fun fact: cover image for the album was shot off Les Îles-de-la-Madeleine (Magdalen Islands), in the Gulf of Saint Lawrence, Quebec, Canada.
The announcement also includes a quote from Ian Gillan on the meaning of the album's title and the "Long Goodbye" tour moniker:
If you take it literally you may, quite reasonably, think the 'Finite' part of the word describes the life of Deep Purple, with a clear beginning and a nebulous end; but what of the 'in' bit? The word infinite is a three-dimensional double edged sword. It describes something that goes on forever in all directions; not unlike its temporal equivalent 'Eternal' What's that all about?

Stephen Hawking declared (in 'A brief History of Time') that, before the Big Bang there was nothing. That would put the kybosh on the idea of our universe being Infinite, as he provides a starting point, which is not acceptable to the concept. So, Hawking's universe in 'Finite'; by definition; whether he agrees or not.

Ironically, he is quite wrong (scientists always are eventually), therefore the Universe is infinite, which means it will never end, and also means that it never started, and the corollary to that of course is that we don't exist.

There is a metaphysical solution to all this, but it will have to wait until the tour is over because (thanks heavens) there are only 24 hours in a day (for the time being) or 10 hours in a metric day.
More on that later…
A three-dimensional double edged sword indeed.
Thanks to Andrei Gusenkov for the heads up and Maxim Bylkin for additional info.