Reviews
James Gemmell
Stephen Graham
Benny Holmstrom
Wolf Schneider
Catrin Wiegand

Tell Ian what you thought of it
Contests
Smoke This!!
List of CD winners
US Tour
Tour Dates
Live footage

Other Stuff
Pre-release party
(Apr 11, 2006)

Promo trailer

Gillan's Inn
home site

Buy It



Amazon.com



Amazon.co.uk



Amazon.de



Amazon.jp



Amazon.fr



Amazon.ca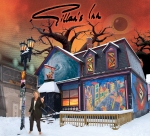 Detroit - April 11, 2006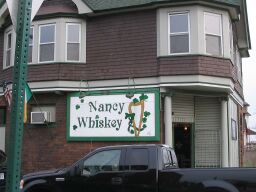 It was an unforgettable night with Ian Gillan at a listener party in Detroit on Tuesday night, April 11th. Local station WCSX and Gillan's record label, Immergent, hosted the bash for a select number of fans at a tiny Irish bar called the Nancy Whiskey Pub located on the outskirts of downtown Motown, at Spruce and Harrison streets. The 103-year-old pub was very popular during the heyday of the Detroit Tigers, when the Tigers played at the since-abandoned Tiger Stadium from 1902-1999. Tiger Stadium is less than a mile away.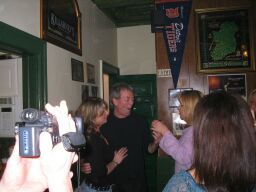 It was a beautiful night, about 70 degrees (F). Gillan, guitarist Michael Lee Jackson and Mike Terrell from RED Distribution entered the pub at 7:40pm to a huge round of applause from about 40 adoring fans. Ian signed autographs, posed for countless photos with the fans, all the usual stuff. I bought him a Coke, and then a Tullamore's Dew. To say he's down to Earth and extremely polite, patient and gracious is an understatement. Music from the album side of the dual-disc was played throughout the night. A slide show on Gillan's Inn was eventually shown, and then Big Ian got up on stage and informed the audience about the making of the album/DVD. There were several humorous anecdotes, such as the story about how one of the guitarists who performed on Smoke on the Water accidentally cut his finger and bled on his guitar. Rather than wipe off the blood, the guitarist told Ian he had three layers of clear varnish put over the blood stains, making the guitar a lasting souvenir.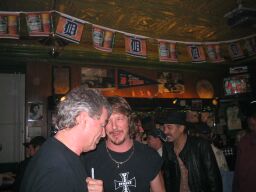 About 9:10pm, Ian & Co. decided to leave. He thanked everyone, shook hands and then was surrounded by fans who took more photographs for about 15 minutes. Then, Ian, Michael and crew took off in a red minivan down Spruce Street to a huge roar from the fans. A big smile on Ian's face as he waved goodbye out the window.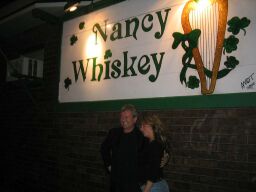 My conversations with Ian were very brief, but he was extremely cordial, as always. What a class act. If ever an album/DVD deserved to be bought, it is Gillan's Inn. The music cranks! The DVD portion is classic. I particularly like Trashed, Bluesy Blue Sea, Unchain Your Brain and No Laughing In Heaven.
Last update: April 17, 2006
Donor Section






Subscribe to:
The Highway Star Update!

Participate in:
Purple discussions
THS Blog

Join the:
Mailing lists

Purple Tours
Tour Dates
Tour Reviews

Purple Music
Shop
Upcoming Releases
Discographies
Lyrics/Tabs
Sound Archives
MIDI Archives
Movie Archives

Other Sections
News
Frequently Asked Q's
Image Gallery
Purple Contributions
Interviews
Special Features
Editorials
Bios/Family Tree
Newsgroup/IRC
Joanna's Gossip
Links
Who To Blame