About the book
Didi Zill's photos
Roger Glover's prologue
Roger Glover: emailing in 1984
Didi Zill's postscript
About Didi Zill
Reviews
Rasmus Heide
Catrin Wiegand
more reviews...
Buy the book
Publisher's website
Discuss it
Purple Forums


Picturesque perfection (nearly)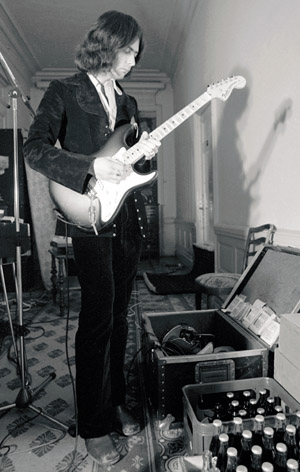 Quiz:
Is this young man nicking beer from the back room of his local pub or making rock history in a Swiss hotel corridor?
© Didi Zill
The short version: Go straight to the publishers' website and order this highly recommended book. The long version? Read on...
Didi Zill's camera lens was peering over Ian Gillan's shoulder as he and Roger Glover penned the lyrics to Smoke On The Water - two scruffy looking rock'n'rollers on an old couch in a cold hotel corridor in 1971. Said lens is also where Roger Glover cast a gloomy glance in Osaka 1973, while Ian Gillan bid the Japanese fans farewell at the end of Mark 2's final show.
When the rock machine that was Deep Purple started up again, Didi was there in the Welsh hills, capturing the confident stare of one Glenn Hughes and the flared looks of new-boy (and embryonic white snake from Redcar) David Coverdale.
Many clicks later Didi documented Deep Purple's return to Germany in 1985 when 60.000 be-leathered bikers and bikerettes (and one particular THS editor!) got together in a field outside Mannheim, while the band were backstage signing a poster for a hospitalised fan. Among hundreds of other things, Didi Zill also exposed Ritchie Blackmore at home playing a game of pool with his cat in 1987 - but that's another story.
From the initial photo session in a Munich photo studio in 1970 till 1991 (when Didi finally lost confidence in the band - something to do with a guy called Joe...), Didi Zill would frequently focus his lens on the members of Deep Purple. But contrary to the hundreds of press photographers who'd train their optics at the guys on a stage somewhere, Didi developed up a friendship with Deep Purple which earned him access to the band under less staged (cough) circumstances.
Consequently, as you leaf through this weighty tome of Deep Purple history, humility is what you feel - and attempting to review it coherently and comprehensively is an exhausting project. Yet, I don't suppose I could just tell you it's excellent, so go and buy it? I thought not. My first encounter with the book, intended to be brief, turned into hours of awed 'reading' and admiring.
Possibly the most enjoyable aspect of this book is the way it offers endless hours of captivating study of the members of Deep Purple - both in their 'natural habitat' - onstage and in the rehearsal room - as well as in their private surroundings. A few fave snapshots;
On the extensive lawn in front of his rather impressive English mansion, Jon Lord plays with his young daughter Sara in 1974. In the kitchen he pours a cuppa, poses briefly by his delicately decorated piano, then settles into a high backed chair with his furry puddy-cat.
11 years later, young Grace Gillan sits on her father's lap at the kitchen table as the singer's mind takes on yet another cryptic crossword from the daily paper. In the background kitchen shelves with spices and fruit, and on the table in front of him, never far away, a packet of Dunhills.
In 1974 a homely-looking, cross-legged Roger Glover on the couch is meddling with a sitar - before he strolls into his music room to tinker on the electric piano. Rare shots of the bassplayer who the year before was temporarily and involuntarily laid off from rock'n'roll.
Between Zill's two visits to the Blackmore home in 1974 and 1987, the guitarist moved from an English looking house in Surrey to a positively medieval looking mini-manor in Connecticut, USA - replete with a generic German bierstube in the basement. Here he entertains friends and roadies alike on an acoustic guitar (is that a young Jim Manngard grinning in the background?), but in spite of Ritchie's love for all things German (and the German beer apparel on the walls), the favoured beverage at the Blackmore Tavern would seem to be... Budweiser!
Jon Lord and Ian Paice are married to twin sisters and Didi went to visit all four of them (plus kids) at their Mediterranean Menorca home between tours in 1986. Ian is a keen fisher and Jon likes to read the paper after his daily jog - and it's all in here - along with a silly shot of the drummer and organist playing speed boat to a would-be water-skiing friend (not easily explained, I know - get the book). Annoyingly, several of these shots were mirrored in the printing process, more about this later.

Didi Zill was a fly on the wall observer (with a camera) at crucial moments in Deep Purple's history. Nowhere more importantly than at the most pivotal of them all - the Machine Head recording sessions in Montreux. As a means of documenting these historic days, Zill's book is an invaluable companion to the exciting Classic Albums DVD and the remastered and remixed Machine Head album from 1997. First watch the DVD to learn the full story behind it all. Then stick the CD in the player and crank it up and, to find out what it all looked like, study the Machine Head section of Didi's book. With more than 60 pages of Montreux photos, Didi takes us back to December 1971 when Deep Purple had set up camp at the 'empty, cold and bare' Grand Hotel.

Starting logically in 'the Rolling truck Stones thing just outside', where Blackmore is tuning his guitar while producer Martin Birch is watching, Didi guides us into the inner sanctum - a chilled, improvised studio in a narrow hallway, strewn with amplifiers, ashtrays, sparse furniture, musical instruments and a virtual spaghetti bowl of wires and cables running everywhere. Making music there, in amongst it all, is Deep Purple, on a diet of cigarettes, Coke, local Bureaugard beer, white bread sandwiches served on a large tray, and - mandarins.

It all looks very improvised, and we can inspect the sparse conditions under which a complete set of rock classics was conceived and recorded. The famous 'few red lights' appear to have been mounted make-shift-style on microphone boom stands. And the area around Ian Paice's drums looks such a mesh and maze of microphone stands and cords, that it's a surprise he could get to his stool at all - not to mention back out from it for one of the many play backs in the truck outside.

Over four pages Ritchie is seen playing his guitar standing up, sometimes with eyes closed in concentration, others staring intently at the fretboard. We can only wonder at which piece of which song he would have been working on that very instant. If Didi remembers he hasn't bothered to tell the publishers.

Between takes, Ian Paice stretches out on one of the many mattresses at hand, and there's time to pose around the drums for a not very image conscious group photo. Everything in the small confined room is shown in detail - Ritchie changes strings on his guitar, Gillan notes down a few chosen words, Jon enjoys a cup of coffee - and the hotel section finishes with a group photo with the truck outside. The second half of the Montreux section is shot around the town and at 'funky Claude' Nobs' home. He was the local promoter who helped Deep Purple find a replacement for the burnt down Casino.

Despite all this detail, one of the book's shortcomings is the way it chooses to leave out information that would educate its readers as to the context and content of all its amazing photos. Didi's own words on what he saw and heard in Montreux would have offered the reader a fascinating insight. Of course, being a photo book, there was never meant to be much text, but such is the variety of locations and span of years covered, that the short texts which do accompany each chapter show great ignorance in choosing simple hit and miss biographical notes (such as listing every member of Rainbow, Gillan Band and Whitesnake - most of whom don't even feature in the book!). If words had to be included, Didi Zill's personal memories of the times he spent with the band would have made for far more interesting reading. But apart from one or two snippets (Ritchie would invariably instruct his roadies to hide Didi's equipment when the photographer wasn't looking), there's precious little relevant information at hand.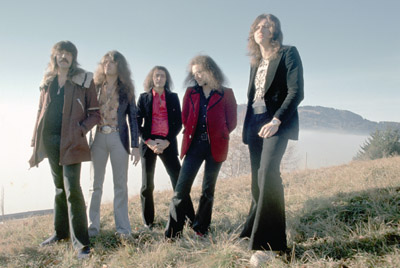 Which way to the pub? Lost in the Welsh hills, Deep Purple Mark 3 ignores the inspirational misty mountains behind them. © Didi Zill

Which brings us to the captions. Just about every single photo bears a simple caption listing the people in view. While very handy to new-comers, it soon gets tiring, not to mention silly. Nowhere more so than across 23 pages of photos from the Mark 3 presentation and subsequent rehearsal session at Clearwell Castle. Repeatedly every caption lists Blackmore, Coverdale, Hughes, Paice, Lord in varying left-to-right sequences when it would have been more appropriate to state date and location for each shot - throughout the whole book, please. (Ross Halfin's superb The Photographers' Led Zeppelin photo book from 1995 managed this to perfection, even as it included the work of more than 20 different photographers.)

In an otherwise excellent Perfect Strangers Tour section from 1985, photos from the two German open-air shows at Mannheim and Nürnberg are randomly interspersed with photos from an in-door show - which could only have been from the preceding US tour, simply because they appeared in the European tour programme at the time! Also, did Blackmore perform in Wellies anywhere else but Knebworth? If not, this section also includes a few shots from the British homecoming mudfest - but you'd have to be particularly eagle-eyed to realise this.

Eagle-eyed is not what you need to be to spot the alarming number of photos that were mirrored in the printing process. Apparent to even the most cursory glance, proof reading was not at the top of the publisher's agenda before the book was released. Fortunately none of the onstage photos seem to have suffered this fate, but when Jon Lord's t-shirt clearly reads 'Boston' or there's a huge 'Exit' sign in the background it's not hard to work out when something's not right - or left.

While there's no faulting the wealth of photographic material on display here, a book in this lavish price range inspires higher expectations in terms of layout, presentation and quality of printing. Several photos, which in the magazines at the time appeared crystal clear and sharply focused, come out blurred or bleak in the book. Case in point are shots from Didi's initial session with Purple in 1970 - where the band show off their decidedly of-its-time style of clothing(!). These appear in beautiful well contrasted colours in the January 2003 issue of Mojo Magazine - yet in this book the same session looks faded and dull.

At the end the day, ignoring the secondary editorial errors and omissions which are glaring and a great shame to such an impressive publication, Didi Zill's book remains the most important photographic work on Deep Purple to date. I can only offer humble applause to Didi for his exhaustive coverage of Deep Purple between 1970 and 1991. Whether the publishers will correct all the mistakes in time for the second edition remains to be seen, but this magnificient book stands strong as a wonderful tribute to the world of Deep Purple.

Highly recommended.
Donor Section






Subscribe to:
The Highway Star Update!
Participate in:
Purple discussions
Join the:
Mailing lists
Purple Tours
Tour Dates
Tour Reviews
Purple Music
Shop
Upcoming Releases
Discographies
Lyrics/Tabs
Sound Archives
MIDI Archives
Movie Archives

Other Sections
News
Frequently Asked Q's
Image Gallery
Purple Contributions
Interviews
Special Features
Editorials
Bios/Family Tree
Newsgroup/IRC
Joanna's Gossip
Links
Who To Blame