About the book
Didi Zill's photos
Roger Glover's prologue
Roger Glover: emailing in 1984
Didi Zill's postscript
About Didi Zill
Reviews
Rasmus Heide
Catrin Wiegand
more reviews...
Buy the book
Publisher's website
Discuss it
Purple Forums


A feast of a book...
- but what's really in it?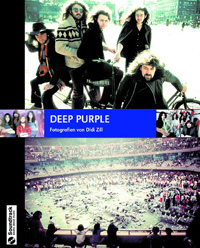 Original book cover - unused
Content
432 pages - art print paper - 24 x 30 x 4 cm - hardback with dust cover. Each Section as well as most sub-chapters are introduced with one page of text. There are pages that have up to five pics, other pics are spread on a double page. All text is in German. We have translated some of it for you in this special.
Prologue by Roger Glover: 1 page (read it in English)
The story of DP by Michael Rudolf: 2 pages. (read brief English extracts)
Part A: The years 1970 - 1973: (146 pages)
1970 - Munich, BRAVO-Studio, first photo session with DP (16 pics)
1971 - Copenhagen, street and hotel pics only, none on stage (11 pics)
1971 - Montreux, studio (33 pics - plus 2 Rainbow pics that went in accidentally)
1971 - Montreux backstage and private (15 pics)
1971 - Munich, DP recieves an Otto-award (from BRAVO) (2 pics)
1973 - Last tour Mark 2 in Japan (23 private pics, 14 pics on stage, 4 pics of the wrecked Budokan, 2 pics after the show, 2 final line-up pics of Mark 2)
Part B: The years 1973 - 1978: (82 pages)
1973 - Munich, rock meets the classics (5 pics of Jon Lord's Windows concert)
1974 - Sonning, England, at home with Jon Lord (6 pics)
1973 - Clearwell Castle & Montreux, the first photo session of Mark 3 (15 pics) and the first rehearsals and an early show (22 pics)
1974 - England, at home with Roger Glover (3 pics)
1974 - Surrey, England, at home with Ritchie Blackmore (7 pics)
1975 - Munich, photo session for Come Taste The Band (8 pics)
1976 - Rainbow (1 promo shot of Carey, Powell, Bain, Dio line-up, 7 pics Blackmore on stage, 1 pic Rainbow on stage)
1977 - Coverdale & Whitesnake (12 pics in the studio, Marsden, Moody, Murray, Lord, Paice line-up)
Part C: The years 1985 - 1990: (180 pics)
1985 - USA, Perfect Stranger tour (8 pics travelling, 5 promo shots, 2 on stage pics)
1985 - Germany, Monsters of Rock Festivals (12 pics backstage, 28 on stage pics)
1985 - England, at home with Ian Gillan (7 pics)
1986 - Menorca, at home with Lord & Paice families (10 pics)
1985 - Germany, Ritchie Blackmore visiting German castles(6 pics)
1986 - Munich, promo shots/cover shots for The House Of Blue Light (17 pics)
1987 - Connecticut, at home with Ritchie Blackmore (14 pics)
1987 - Budapest, DP behind the Iron Curtain (4 pics)
1988 - Italy, on tour in Europe (13 pics in bus/hotel, 13 on stage pics, 2 promo pics)
1988 - Frankfurt am Main, Nobody's Perfect launch party at castle Frankenstein (7 pics in costumes)
198? - Hamburg, Ritchie loves soccer (6 pics)
1990 - London, Mark 5 (4 hotel pics)
1990 - New York & Menorca, cover session for Slaves & Masters (7 pics)
Thank you for 20 years:
One page of text by Didi Zill and a pic showing him on stage 'playing' Ritchie's guitar with DP. (Read it in English)
The texts:
All text is in German. Most of the text introduces the band in a manner you would introduce it to someone unfamiliar with Deep Purple. Most of it is correct but in sometimes pretty odd language. Names and dates of places should be understandable even to non-German speakers. Several women named as wives were probably only girlfriends...
Short translation/summary of a few highlights, all texts by Michael Rudolf:
Introduction (page 9), about Mark 3: "The fans must have had tears in their eyes when they heard Smoke On The Water played as a funky song. They had to be even more patient in 1975 when Tommy Bolin usually didn't want to play like Blackmore." Later he says that Steve Morse was great for DP as now they are a real band for the first time...
Scandinavian Tour (page 32): "The band is successful now, Lord, Gillan and Blackmore started to fight about influence on stage, Didi Zill started to become a real friend to the band. One evening Didi Zill helped DP take some girls up to their hotel rooms as he distracted the night porter. From now the band call him 'Didi the crazy German'."
Last Mark 2 tour and concert in Japan (page 116): "Being at the top for five years is too much for DP, Gillan and Glover will leave the band. Didi Zill is with the band in Japan and sees all highs (e.g. the woman of Tokyo) and lows (the tears after the last show)."
Roger Glover (page 214): "Roger is described as the 'good soul' of DP that holds the band together, he is one of the greatest producers, remasters DP releases and "writes friendly forewords." ;-)
Session for Come Taste The Band ( page 226): "Ritchie Blackmore was able to handle one singer at a time, now with two of them he fails and flees." During the session where Glenn Hughes was missing, the band acted so silly that "the photographer still asks himself today what they might have been on. Bolin and Hughes are more interested in funk and illegal substances (than in playing like Mark 2 did)."
Ritchie Blackmore's Rainbow (page 232): Now Blackmore can do what he wants and change musicians as he likes...
The Perfect Stranger Tour (page 248): "Inevitably, Didi Zill receives a phone call from the management to go take pictures of DP."
Monsters of Rock (page 268): "Gillan could hardly speak before the show but sang fantastically..."
Page 297: You see a sign "Paice rules" - the caption says "Exactly". A rare instance where the caption venturs beyond simply naming who is in the picture.
At home with Ian Gillan (page 310): The Ian Gillan Band is categorized as "stylistically undecided". "In 1983 he became the singer of Black Sabbath - to the horror of all Deep Purple and Black Sabbath fans." (note: there are no Black Sabbath or Ian Gillan Band pics in the book)
At home with Jon and Ian Paice (page 318): Jon and Paicey are married to twin sisters and live directly on the sea. Paicey loves to fish...
Portraits for The House Of Blue Light (page 334): DP are recording in Munich, only Ritchie records in New York. Didi Zill should do the pictures for the cover but Ian Gillan doesn't like the pictures from the session and chooses somebody else to work with. [Compare the sleeve and the book to learn differently. Rasmus] Blackmore chooses pictures from his castle holidays with Didi Zill. (note: this page features the only English quote.)
At home with Ritchie Blackmore (page 350): Didi Zill lives at Ritchie's home for a couple of days. He had to bring Ritchie German beer and an autograph from Franz Beckenbauer and was asked to play soccer.
European Tour (page 372): Due to bad weather the band has to wait in the hotel to see whether the show can take place - Ritchie wants to talk to Andi Brehme and Lothar Mathäus (German soccer players who back then played for Inter Mailand) and Didi introduces him. The two soccer players refuse the invitation to go to the show. Mathäus is infamous for not speaking English, so maybe Ritchie spoke German to him...?
Nobody's Perfect launch party at a castle (page 402): Ritchie Blackmore gives us some foretaste of what he will do with Candice Night later: The press and record company are invited to a party and have to dress up in medieval costumes. Jon Lord doesn't like the idea and stays home, but everybody else has great fun. At the end of the party Ian Gillan even drops his trousers - the master of ceremonies is not amused.
Thanks to Catrin Wiegand
Donor Section






Subscribe to:
The Highway Star Update!
Participate in:
Purple discussions
Join the:
Mailing lists
Purple Tours
Tour Dates
Tour Reviews
Purple Music
Shop
Upcoming Releases
Discographies
Lyrics/Tabs
Sound Archives
MIDI Archives
Movie Archives

Other Sections
News
Frequently Asked Q's
Image Gallery
Purple Contributions
Interviews
Special Features
Editorials
Bios/Family Tree
Newsgroup/IRC
Joanna's Gossip
Links
Who To Blame