About the book
Didi Zill's photos
Roger Glover's prologue
Roger Glover: emailing in 1984
Didi Zill's postscript
About Didi Zill
Reviews
Rasmus Heide
Catrin Wiegand
more reviews...
Buy the book
Publisher's website
Discuss it
Purple Forums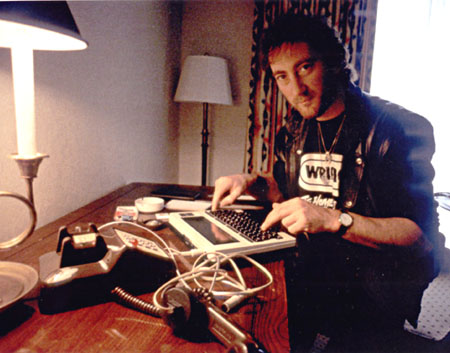 Taken in Italy 1988, this photo shows Roger Glover with his embryonic email set-up, which he first used in Australia 1984 - predating The Highway Star by about ten years...
© Didi Zill
Roger Glover remembers:
The early years of email
"My only earliest memory of 'electronic mail' is from the Perfect Strangers tour in Australia, 1984. We had all bought Radio Shack model 100s, the only computer that could send emails at the time. The modem was a huge rubber device that physically wrapped itself around a telephone mouthpiece, resembling something from a science fiction alien nightmare movie.
I remember understanding that when I sent a message from my Sydney hotel room, it went up to a satellite, around the world and down to Washington, USA, where a giant computer routed it right back up to the satellite and down again, seconds later, to Jon Lord's room next door. We thought that was a real hoot. Boys and their toys indeed!"
- Roger Glover 2003
This picture appears in Didi Zill's book, albeit mirrored.
Reproduced on The Highway Star with kind permission from Didi Zill.
Scanning and mirroring by Catrin Wiegand
Donor Section






Subscribe to:
The Highway Star Update!
Participate in:
Purple discussions
Join the:
Mailing lists
Purple Tours
Tour Dates
Tour Reviews
Purple Music
Shop
Upcoming Releases
Discographies
Lyrics/Tabs
Sound Archives
MIDI Archives
Movie Archives

Other Sections
News
Frequently Asked Q's
Image Gallery
Purple Contributions
Interviews
Special Features
Editorials
Bios/Family Tree
Newsgroup/IRC
Joanna's Gossip
Links
Who To Blame