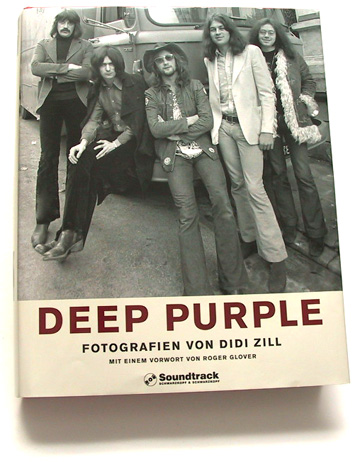 Book cover - Deep Purple with the "Rolling truck Stones thing" in Montreux 1971, while recording Machine Head
European Deep Purple fans with long memories fondly remember the excellent photographs of the band often published in German music magazine BRAVO in the 1970s. German photographer Didi Zill was the man behind the camera and together with Fin Costello he remains the Deep Purple photographer of all time. Following the band from the early 1970s through till the early 1990s, his work not only covers Deep Purple's history, but is Deep Purple history in itself.
From Zill's extensive archives now comes the Deep Purple photo book to end them all. Across more than 400 coffeetable sized pages (24 cm x 30 cm), "Deep Purple - Fotografien von Didi Zill" offers more than 600 of his best Deep Purple-related photographs. What EMI's recent Deep Purple box set is for Deep Purple's music, this book will be for Deep Purple visuals.
Didi Zill first met Deep Purple in 1970 at a photo session at BRAVO's photo studios in Munich, Germany. During the ensuing 23 years, he would often accompany the band on tour and under more private circumstances. In 1971 Didi visited Deep Purple in Montreux where he documented the recording of the Machine Head album, and (somewhat) more recently Didi's excellent on- and offstage coverage of the band's 1988 Italian tour was printed in Metal Hammer magazine. Inbetween he was there for Mark 2's final shows in Japan 1973, he covered the birth of Mark 3 as well as off-spring bands Rainbow and Whitesnake, and Deep Purple's blockbuster reunion tour in 1985.
Apart from the numerous shows and tours, Didi also photographed Deep Purple on joint holiday trips and made 'At Home With...' stories on Jon Lord, Ian Gillan and Ritchie Blackmore. He won their confidence and remains friends with them to this day. No other photographer photographed Deep Purple so often and in so many different, professional and private surroundings.
Roger Glover has written the prologue for the book. Here he speaks about Deep Purple's less than respectful attitude towards outsiders in genral and photographers in particular, explaining that working with most of them wasn't very comfortable. However, with Didi Zill things were different.
Sessions with Didi were always short. And fun. He took some of the best photographs of us at that time. He saw the reality of the band, never abused his position, he became a friend.
- Roger Glover, 2002
In this special you can enjoy photographs from the book (and some not from the book), read some of its texts (which we have translated into English for you) and learn more about Did Zill. Published by Schwarzkopf & Schwarzkopf, the book is available through the publisher's website.
Did you buy this book? Please send us your review
This special last updated January 11, 2003.