Disc-by-disc
Disc 1
Disc 2
Disc 3
Disc 4
Disc 5
Disc 6
Reviews:
Garry Smith
Discuss it
Purple Forums
Buy It
amazon.co.uk
amazon.com
amazon.de
amazon.co.jp
amazon.ca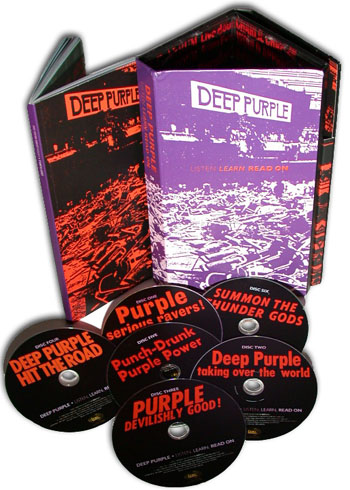 There's plenty of new Deep Purple material to sink our ears into while we wait for the next studio album to come out in 2003. Simon Robinson's Sonic Zoom label is releasing one excellent archive live recording after another. There's the truly wonderful Machine Head 'Classic Albums' DVD, Roger Glover's very recommended Snapshot solo album, Didi Zill's photo book (to end them all) and much more. But without a doubt the most thorough and impressive of them all is EMI's Listen Learn Read On box set.
Over six comprehensive CDs the box set tells the story of Deep Purple in the 1970s. Beginning with tracks from each of the ten 1970s DP members' pre-Purple careers. On offer here are enriching insights into the musicians that would later shape and mould Deep Purple into the musical success it became. For while Deep Purple may stand for many things, it is first and foremost about the music. Each individual musician is a master at his craft and it is through the sheer skill accumulated within Deep Purple that the story is told.
Continuing into Deep Purple Mark 1 and onto the illustrious Mark 2, the box set features a slew of unreleased live-in-the-studio recordings of the songs that as a whole would make up the band's breakthrough album Deep Purple In Rock. Energetic, raw and brimming with playful excitement. The subsequent albums and line-ups are also thoroughly represented with a mixture of golden classics (some in new shape and form) and unreleased or rare live recordings. The disc-by-disc overview (see left) takes you through the many highlights, plus one or two low points.
With the box set comes a 120-page book (yes, that's right 120 pages!) where Deep Purple archivist supremo Simon Robinson tells the story of Deep Purple from the band's inception in 1968 to their sad demise on stage in 1976. Building on Chris Charlesworth's long-out-of-print Illustrated Biography book, Robinson amalgamates the excellent liner notes from the remastered albums with new material, compiling possibly the definitive 1970s Deep Purple biography - at least until someone in the band decides to put pen to paper (Come on Roger, we dare you!). Coupled with detailed biographies of each band member, masses of previously unseen photographs and memorabilia, the book on its own is a must-have.
send us your review
This special last updated March 22, 2003
Donor Section






Subscribe to:
The Highway Star Update!
Participate in:
Purple discussions
Join the:
Mailing lists
Purple Tours
Tour Dates
Tour Reviews
Purple Music
Shop
Upcoming Releases
Discographies
Lyrics/Tabs
Sound Archives
MIDI Archives
Movie Archives

Other Sections
News
Frequently Asked Q's
Image Gallery
Purple Contributions
Interviews
Special Features
Editorials
Bios/Family Tree
Newsgroup/IRC
Joanna's Gossip
Links
Who To Blame