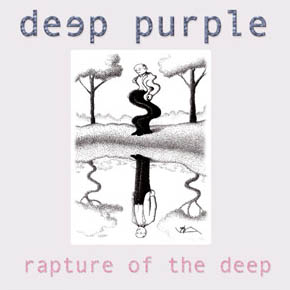 I have worked with Deep Purple now close to 8 years. Abandon being my first cover with them and it's been a very rewarding experience.
The cover drawing is by Tom Swick, it was a color cartoon that Roger Glover saw in a magazine (New Yorker I think) and thought it was an interesting idea to develop further.
Returning from the tour Roger headed down to my design firm, we worked 8 -9 hour days for about a week or so and designed together the packaging for the new album which includes a 2 disc LP, Two Digipaks (10 and 11 song versions) complete with 16 page booklets different from the CD version. 3 CD jewelcases with a 16 page booklet (10, 11 songs version and a Japanese version) and a promo poster.
We created 17 pieces of original art (with the origin being the cartoon) that I'm really proud of. The cover though is really all Roger's design. He picked the color, font, title art, and had the cartoon version done as a simple B/W.
Roger and I worked together as art directors which was a blast.
We are talking about doing a book project together and will hopefully work on the 2006 tour merchandise late next month.
Ioannis
---
Since forming his design company Vivid Images Design in 1994, Ioannis has also designed covers for Universal Records, Sony Records and Sanctuary Records Group with artists as diverse as King Crimson, Blue Oyster Cult and the 1994 cover art and tour graphics for the Allman Brothers Band World Tour.
Ioannis resides in Connecticut with his family, a school of tropical fish and a hamster named Pee-wee.