Reviews:
The Kerrang review
David Sinclair in The Times
Chris Watts in the Melody Maker
What a local newspaper had to say.
Memories
Ed Green
Andrew Langley's memories
Garry Smith's rebuttal
Paul Hine's comments
Bill McLaren had a good time at least
Elsewhere
Tim's web site of Knebworth goodies
Discuss it
Message boards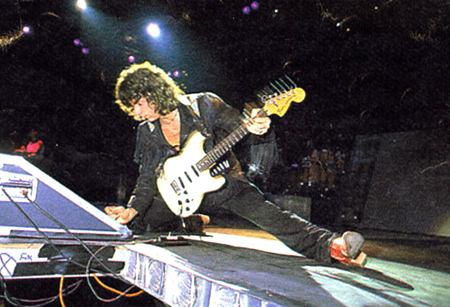 Photo: USA 1985 by Didi Zill
In the absence of pink...
...here's some blues for ya!
June 22nd 1985 was a watershed in more ways than one. 70,000 people turned up for Deep Purple's triumphant return to British soil. Actually, it was more like a boggy field, as you'll find out by exploring this special section of eye witness accounts and more. The Knebworth live album is the soundtrack...
This feature last updated Feb 22, 2003
Donor Section






Subscribe to:
The Highway Star Update!
Participate in:
Purple discussions
Join the:
Mailing lists
Purple Tours
Tour Dates
Tour Reviews
Purple Music
Shop
Upcoming Releases
Discographies
Lyrics/Tabs
Sound Archives
MIDI Archives
Movie Archives

Other Sections
News
Frequently Asked Q's
Image Gallery
Purple Contributions
Interviews
Special Features
Editorials
Bios/Family Tree
Newsgroup/IRC
Joanna's Gossip
Links
Who To Blame