The albums
Shades Of Deep Purple
The Book Of Taliesyn
Deep Purple
In Profile
Reviews
Jay Pearson
Mike Davis
"In Profile" by Nigel Young
Competition
Who won copies of "In Profile"?

Home
Special features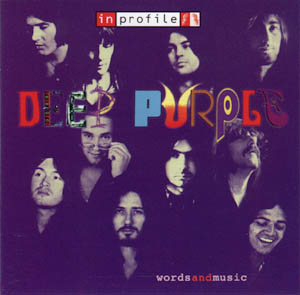 In Profile
EMI 7243 4 95635 2 0
released February 7, 2000
From the cover:
"A unique CD telling the story in words and music of DEEP PURPLE, one of Britain's most revered and influential hard rock bands. Using a combination of specially recorded interviews with the principal band members, producers and managers, and interspersed with selections from their classic album and single tracks, the history of the group - from their first US chart smash 'Hush', through the turbulent line-up changes, the eventual split in 1976 and on to the long-awaited reunion."
Part One: Roundabouts and Swings.

Smoke On The Water
Mandrake Root
Hey Joe
Hush
Kentucky Woman
April
Part Two: Smoke On The Water.
Hallelujah
First Movement, Moderato
Black Night
Speed King
Strange Kind Of Woman
Fireball
Smoke On The Water
Part Three: Who Do We Think We Are?
Highway Star
Space Truckin'
Smooth Dancer
Woman From Tokyo
Burn
Mistreated
Stormbringer
Holy Man
Part Four: Breaking Up Is Hard To Do.
You Keep On Moving
Lady Luck
Perfect Strangers (live)
Lazy (live)
Child In Time (live)
Flight Of The Rat
Slow Train
Smoke On The Water
Donor Section






Subscribe to:
The Highway Star Update!
Participate in:
Purple discussions
Join the:
Mailing lists
Purple Tours
Tour Dates
Tour Reviews
Purple Music
Shop
Upcoming Releases
Discographies
Lyrics/Tabs
Sound Archives
MIDI Archives
Movie Archives

Other Sections
News
Frequently Asked Q's
Image Gallery
Purple Contributions
Interviews
Special Features
Editorials
Bios/Family Tree
Newsgroup/IRC
Joanna's Gossip
Links
Who To Blame