Top of this Section

Tourdates

Reviews
Tokyo, '72
Hiroshima, '73
Tokyo, '75

Ticket scans
'72 Tour
'73 Tour
'75 Tour

Related Sections:
This Time Around

Discography
Live Albums
Videos

Back to Specials Index

Japan Tour 1975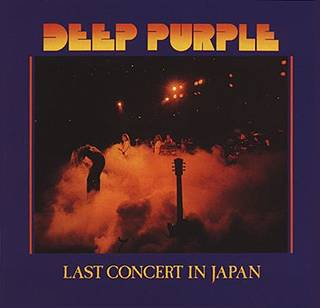 "Last Concert In Japan" (front cover)
Review
15 December, 1975
Tokyo, Nippon Budokan

I was a susceptible youth back then, especially to rock music. With or without Ritchie or Ian, DP were the greatest rock band at the time in Japan, their status was absolutely matchless, so I didn't hesitate once to go and see them at Budokan.
In those days there was always a support band (with Ritchie still the case?), and the audience was twitchy before the band came on. The set began with Burn, followed by a succession of all the hits, with some numbers from the Mark 4 albums thrown in between them, of course. There are bootlegs around, as well as the recently released official recording and the official video release (the latter is now deleted and only available as a bad quality bootleg). In those days one was allowed to stand right in front of the stage, and this show was no exception. I remember the audience going wild and rushing forward during Highway Star (performed in Burn style :-) David was God back then... and Ian Paice on his crystal Perl drums was refreshingly brilliant too. In hindsight I feel they should have been more confident and played more from the Mark 4 albums, but I suppose that's never that easy for a band as big as DP, with so many fans all full of their own expectations. It makes me wonder now whether that was one of the reasons why this Mark didn't last very long.
Had DP continued to exist, the whole DP family scene would have developed totally differently. Mark 5 would have been impossible, and Rainbow would still be here with us. I wish that was the reality. I really wish DP had carried on being what they were, just like Led Zeppelin did. Now they are not receiving the critical acclaim they deserve (well, they are often ignored by the media and the masses) which is sad, because just the fact of the group's existance makes a lot of difference to the world. I wish to have heard Comin' Home live, just once. The details of the 75 show are but a blur at the back of my head, but one of the things I clearly remember even now was David shouting "Ariga-To-Kyo!!" 27 years later, DP are still here, and they will be with us forever...
Noboru Uchiyama
Donor Section






Subscribe to:
The Highway Star Update!
Participate in:
Purple discussions
Join the:
Mailing lists
Purple Tours
Tour Dates
Tour Reviews
Purple Music
Shop
Upcoming Releases
Discographies
Lyrics/Tabs
Sound Archives
MIDI Archives
Movie Archives

Other Sections
News
Frequently Asked Q's
Image Gallery
Purple Contributions
Interviews
Special Features
Editorials
Bios/Family Tree
Newsgroup/IRC
Joanna's Gossip
Links
Who To Blame