Top of this Section

Tourdates

Reviews
Tokyo, '72
Hiroshima, '73
Tokyo, '75

Ticket scans
'72 Tour
'73 Tour
'75 Tour

Related Sections:
This Time Around

Discography
Live Albums
Videos

Back to Specials Index

Japan Tour 1972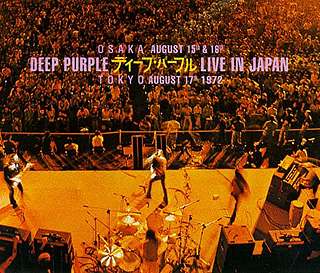 "Live In Japan" 3 CD (front cover)
Review
17 August, 1972
Tokyo, Nippon Budokan

I was a drummer in a band at the time, and we covered some Deep Purple numbers too. You could tell from Ian Paice's drumming styles how much reverence he felt for Buddy Rich. However, on the night of the show, it was Richie Blackmore, on whom my eyes were glued on, even more than on the drums.
Ritchie has the charisma of a magician or a charlatan, and I was an easy score, totally taken in by his tricks. Millions of guitarists (e.g. Yngwie) admit to having been influenced by Ritchie, and it's easy to understand why. For me, his guitar play during this show was far more splendent than anything by Jimmy Page or Mark Knopfler. Yes, splendour is the most fitting word to describe him. I was totally overwhelmed by the guitar 'magician', who kept flying atop Ian Paice's rhythm. The chromatic melody of his solos, and the thrilling rhythm of it all. Remembering back now, there was almost none of the bluesy stuff heard that night which he would later play a lot of. Open-mouthed, I kept watching... only him, my eyes were glued to him, like watching a violin virtuoso at play.
By the way, Ian Gillan's vocal is not really to my taste, though I can't quite pin down any concrete reason. It's probably his overdrive singing that simply doesn't agree with me. Nevertheless, there is no doubt that Ian Gillan has opened up a new door to many hard rock singers to follow with his style. And Jon Lord's creeping, distorted Hammond sound was simply fantastic.
Ian Paice was even more of a pro than I had imagined. He played the highly technical parts with total ease, the exact triplet fills and his solos testifying to his mastership. He was the most important base for the 'hardness' in hard rock. It was against such a glorious backdropthat Ritchie waftingly danced his "black dance". He would rub his guitar against the mic stand for a special effect, play endless virtuosic melodies, not even bothering to look at the fretboard. All teenage would-be rock heroes in Japan were totally and utterly thunderstruck.
I am sure that, had Deep Purple played Woodstock, they would have raised hell. Yes, Ritchie came, showed us all what a true guitar hero is all about, and went. Just remembering his flamboyant performance brings back the goose pimples. I repeat: he played all his highly technical riffs without even looking down at the fretboard - amazing!
Takaya Hatano
Donor Section






Subscribe to:
The Highway Star Update!
Participate in:
Purple discussions
Join the:
Mailing lists
Purple Tours
Tour Dates
Tour Reviews
Purple Music
Shop
Upcoming Releases
Discographies
Lyrics/Tabs
Sound Archives
MIDI Archives
Movie Archives

Other Sections
News
Frequently Asked Q's
Image Gallery
Purple Contributions
Interviews
Special Features
Editorials
Bios/Family Tree
Newsgroup/IRC
Joanna's Gossip
Links
Who To Blame