21 September 1999
PRESS RELEASE
DUTCH COMPOSER REVIVES LOST CONCERTO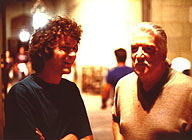 On the 25 and 26 September 1999 the London Symphony Orchestra (L.S.O) together with British rockband Deep Purple will perform the "Concerto for Group and Orchestra" in the Royal Albert Hall in London. These concerts are organised because of the 30th anniversary of the piece. It is the first performance since 30 years. Reason for this 30 years of silence: the score had disappeared.
Jon Lord, organist with Deep Purple, composed his "Concerto for Group and Orchestra" in 1969. Thanks to the efforts made by the Dutch composer Marco de Goeij, the "Concerto" will be performed again. De Goeij who knew that the score had been missing, decided to make a full transcription of the piece by listening to the CD. It took him two years to finish the transcription, which clocks in at a staggering 300 pages of manuscript. Jon Lord, impressed with De Goeij's work made some revisions to the score and updated the instrumentation.
At the concerts, organised by the Nordoff Robbins Therapy Charity not only the revised "Concerto for Group and Orchestra will be performed, but also several old pieces from band members are planned. The hope is to close the show with a couple of Deep Purple songs featuring the band accompanied by the L.S.O..
---
Have a look at some photos showing Marco de Goeij together with Jon Lord and Ian Paice. The photos were taken recently in Pistoia, Italy.
© photos: Jan Willem Bakker