The Royal Albert Hall Concerts 1999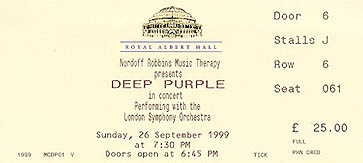 The Purple weekend of a lifetime is coming up in September 1999. Deep Purple will perform "Concert for group and orchestra" by Jon Lord together with the London Symphony Orchestra. The first part of the concerts will be solo performances by the Deep Purple members together with special guests and the second part of the concert after the intermission will be the Concerto. There are a lot of rumours going around about exactly who the guests are going to be but the only confirmed guests we have heard about so far is the Steve Morse Band and Ronnie James Dio.
On these pages you will hopefully find all the info you need about the concerts and your trip to London. If you have any additional information to share, please mail us.