Review
Empire, Liverpool, 15th March 1976
This is a retrospective review of Deep Purple's last concert with Tommy Bolin in 1976.
The set list:
"Burn"
"Lady Luck"
"Gettin' Tighter"
"Love Child"
"Smoke On The Water" incl. "Georgia"
"Lazy"
Ian Paice's solo
"Homeward Strut"
"This Time Around"
"Owed To 'G'"
Tommy Bolin's solo
"Stormbringer"
"Highway Star" incl. "Not Fade Away"
102 minutes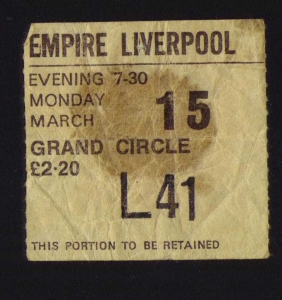 Ticket stub from the show, thanks to Mark Roche
By Rasmus Heide
Photo from the show in Liverpool.
The band amble onstage and while the cheering increases and Ian Paice does a final test around his tom-toms David Coverdale greets the audience with: "We've got some rock'n'roll for you!"
The band crash into a powerful opening and it seems like Tommy Bolin starts the "Burn" riff too early. The tape of this show is clearly of its time, low-fi and distorted, the music sounding like the taper has positioned himself carefully at the far end of the venue!
Coverdale: "We're gonna do some new songs to ya, off "Come Taste The Band"." This elicits a huge cheer from the crowd, clearly eager to hear the new songs. In Coverdale's introduction to which songs they'll do at the show he rattles off pretty much every other Deep Purple album previously released and the crowd seems to appreciate them all.
While David Coverdale tells the crowd that "Gettin' Tighter" is about getting pissed Jon Lord is passing time by fiddling around on the organ with a neat little run. Generally the band is very messy between songs. Tommy Bolin opens "Gettin' Tighter" quietly and the band joins in with an interestingly jazzy passage. Tommy then takes off with the riff and Glenn Hughes sings about losing yourself and watching the band kick back and play. "Get up, keep in line, it's gettin' tighter all the time." If only…
In the funky solo break Tommy Bolin takes the lead, but it's hard to make out the notes from this tape. The solo ends in a barrage of effect-filled noise. The longer middle section where the band really branches out works quite well and it sounds like they're having fun. Deep Purple at full throttle.
Jon Lord's solo in "Love Child" sees him almost going into the theme from his then soon-to-be-released solo album "Sarabande", but he changes his mind and wanders about for a few minutes, the synthesizer producing sounds that would fit well with any late 1970's out-and-out sci-fi movie.
"Smoke On The Water" obviously sees Glenn Hughes exhausting the life out of the old "Georgia" classic while Jon Lord's intro to "Lazy" includes a snatch of Beatles' "Strawberry Fields Forever" (a song Steve Morse would quote some 22 years later during his solo in a Stockholm show), and some excruciating death wish noises from the Hammond. Before launching into the well-known "Made In Japan" rhythm'n'blues opening of the song, Jon Lord takes a detour around some more sci-fi soundtrack effects. Once they launch into the riff proper, Tommy Bolin again chooses to do it more as an echo to Jon - or maybe it was all he could manage? Ian Paice delivers an absolute killer of a drum solo with rolls around the kit faster than anything. As always was and is the case, he's the one who never disappoints.
The band go straight into Tommy Bolin's "Homeward Strut", which sees Jon Lord pick the melody line on the synth. The song almost falls apart at one point when only Paice and Bolin continue while Glenn tells the crowd he wants to see everybody standing up. One wonders whether he could see anything at all!
When it's time for Tommy Bolin's solo things start to get nasty. He proceeds to make his guitar and echo effect stutter all over the crowd with a noise that sounds more like a car engine reluctant to start. The crowd becomes vocal and he attempts a run or two before the hecklers take over and right by the taper a guy yells: "We want Ritchie!!" Tommy soldiers on, but his playing seems aimless and unimaginative. The shouter returns with "Give us Ritchie back!!" A meandering slide guitar show-off does little to help cool the crowd and they seem even more restless than before. When Tommy stops after a long rhythmical bluesy passage the crowd erupts again with loud requests for Ritchie and Tommy's ensuing subdued attempt at some gentle picking seems completely lost on the audience and they no longer wait for Tommy to stop before shouting their abuse. "Get off!!"
After much too long Tommy is saved by the band and "Stormbringer", which, both in title and in style, is a stark contrast to what went before it. Tommy does an inspired solo in the song and all seems forgiven. It's the usual Mark 4 prolonged ending, where at first it grinds to a halt only to be slowly revived. Very effective.
Afterwards the band bid their farewell but the crowd won't let them go. The atmosphere has turned from one of near-hate to exaltation for the band's return. A guy shouting for "Highway Star" is granted his wish as David Coverdale introduces "a song about speed."
You can't take away from the band that they had power and stamina, but compared to modern day Deep Purple this lot sound like an elephant in a candy store. They are simply all over the place. After a verse or two of "Highway Star" the taper seems to move right up to the P.A. and the sound is distorted almost beyond recognition. A shame, as the band is really thundering along. At one point they venture into "Not Fade Away".
When the band leaves the stage Jon's Hammond remains feeding back, before the crowd takes over and the tape cuts out. The end of Deep Purple in the 1970's.
It is fascinating to listen to the chaos Deep Purple Mark 4 often created onstage. On their good nights they rocked the house down, but on other nights it was painfully obvious that not all five members were working in the same direction. Fortunately, as we all know, two of the gentlemen onstage in Liverpool that night decided to give it another try some eight years later and are still going at it to this day, but that's a different story.