Review
Empire, Liverpool, 15th March 1976
These are the moving eyewitness recollections of one fan who was at Deep Purple's last concert with Tommy Bolin in 1976. They give a fascinating insight into the audience reaction at the time.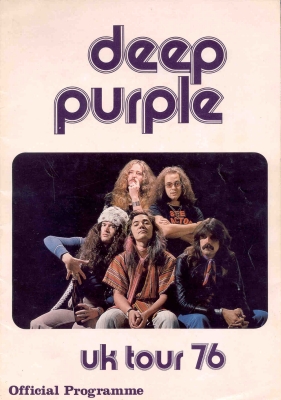 The tour programme. Where are David's and Glenn's fingers going?
I was on Row G that night and could see the expressions and body language onstage. You see, there were mixed emotions for me. I just missed out on seeing the classic Mark II line up. Many of my age group in the audience just wanted to see Purple at any cost. Everyone that I met in the bar wanted Tommy to do well. They knew all about Glenn and David's talents.
In my opinion the band came on in good form. The opener was a riproarer, "Burn". But soon after it was very clear that things were not right. In between were just solo efforts designed to get each member through what was obviously a very traumatic and confusing time. All five members were on stage together for the opener and the closing number only.
Tommy's solo said it all. He still remains one of my heroes but it still chokes me to say that he should have been in Liverpool Royal Infirmiary that night. I think it was on "You Keep On Moving" (sung well enough as usual by Glenn), that Tommy stood almost motionless on the front of the stage with a little guitar synth which went "woingggggg" when he managed to find a decent note.
I just felt numb. All the time I was thinking, "come on, come on Tommy, show them!" I'd bought "Teaser" the week before and was knocked out. Inevitably there were some understandable calls for "The Cat" and "Ritchie" but mercifully Tommy was too spaced out to hear them. He stared at my group of friends for one fleeting moment and we gave him the thumbs up. He gave us one back. We knew he was ill. I have a lump in my throat writing this. Moving on........
He was rescued by Glenn who came in with the bass line and eventually David, Jon and Paicey who gave him the opportunity of riffing into "Burn". Jon actually did all the chords, major solos and arpeggio work. Listen to "Last Concert In Japan" and that's what we got really.
I don't recall David's exit being all that dramatic but I do recall Glenn's. It was strange because everyone else had left. Glenn seemed inclined to do a second encore but no one followed him back on. I distinctly remember him calling to his left, shaking his head, and tossing his bass guitar high in the air. No Blackmore style smashing sessions. Just pure anger and frustration. It bounced twice on the stage. The speakers thundered. It was over.
Jon recalls that the band played badly and were not booed off. Reason? I picked up two reactions from other conversations in the hall and on the train. Basically, people of my age group (approx 16) were just honoured to have been at a Deep Purple gig and went back convincing themselves that this is what Purple were about. Older people with more flexible allegiances were saying that Purple were finished. Sadly a few days later they were proved right.
And that was it really. I'm 40 now and I am still honoured to have been there. I'm saying this with hindsight, but it was like the laying down of a flag in the City of Liverpool. We kind of understood the ceremony I think.
I saw the current line up in 1996 at the Liverpool Empire and they all stayed on stage together except for the Morse and Lord solos, which were rehearsed and part of the whole set, unlike in 1976 when nobody was really capable of doing any of it justice.
Hey, just come and do it again sometime!
Keith Thompson, a fan from Liverpool
Many thanks to Keith for scanning his tour programme and sharing his memories.
- Rasmus Heide