While we wait for Deep Purple to produce their Christmas album, the denizens of AMD-P have put together their own, available at K-Marts everywhere.
---
Songs include these seasonal favorites:
All Silent Night Long
Deck The Halls of the Mountain King
Fat Sleddin' Man
Flight of the Sled
Giftwrapped Loot
Hark The Herald Angels Burn
I Saw Three Ships Sail Away
I'm Street of Dreaming of a White Christmas
Into the Chimney
Joy To The Eyes Of The World
Lost In Holly-Wood
Lutenfiskular
Might Just Wrap Your Gift
Nog Sucker
Run With the Rudolph
Santa's Eye
Silent Black Night
Sled on the Mortar
Sleigh Away
Smooth Wrapper
We Three Kings of Dreams
Why didn't Joe's Mary (....ever take the pill?)
Wish upon a Stargazer
Wrap That Gift
And as a special bonus, you get that famous Norwegian ditty, "Lutefisk, O Lutefisk":

O Lutefisk, O Lutefisk, how fragrant your aroma,
O Lutefisk, O Lutefisk, you put me in a coma.
You smell so strong, you look like glue,
You taste just like an overshoe,
But lutefisk, come Saturday,
I think I'll eat you anyvay

O Lutefisk, O lutefisk, I put you in the doorvay.
I wanted you to ripen up just like they do in Norway.
A dog came by and sprinkled you.
I hit him with my overshoe.
O lutefisk, now I suppose
I'll eat you while I hold my nose.

O Lutefisk, O lutefisk, how well I do remember.
On Christmas Eve how we'd receive our big treat of December.
It wasn't turkey or fried ham.
It wasn't even pickled Spam.
My mother knew there was no risk
In serving buttered lutefisk.

O Lutefisk, O lutefisk, now everyone discovers
That lutefisk and lefse make Norwegians better lovers.
Now all the world can have a ball.
You're better than that Geritol.
O lutefisk, with brennevin  [Norwegian brandy]
You make me feel like Errol Flynn.

O Lutefisk, O lutefisk, you have a special flavor.
O Lutefisk, O lutefisk, all good Norwegians savor.
That slimy slab we know so well
Identified by ghastly smell.
Lutefisk, O lutefisk,
Our loyalty won't waver.

Sung to the tune of "O Tannenbaum"
---
Songsters extraordinaire include: Mark Davies, Barb Fox, Robert Gervais, Garry Smith, Jim Strange, and Trond J. Strøm. The DPWWW recently got hold of an EXCLUSIVE review of these singers' first(?) concert ever;
Review of the Live Performance of "Lutefisk, Oh Lutefisk"
Caught in concert, Madison Square Garden, NYC 12/18/96
AMDPer's Extraordinaire (Promoting "Come Taste The Lutefisk" Album)
Cozmo's Review
The crowd was subdued at the "Garden" by a less than spectacular warm-up opening performance by "Wild T and the Christmas Spirit".
Many fans anticipating the "AMDPer's Extraodinaire" were disturbed by feeling compelled to attend the show despite warnings of an impending snowstorm. They had shopping to do. "AMDPer's Extraordinaire" (known as "AE") understood the feeling of the crowd as the stage and house lights dimmed. A distant howling of a wolf that started their show signaled a "Hush" to the crowd. The first chord of "L,OL" (not to be confused with LOL, although not far off) was struck. The stage and house lights came up on our heros. Mark Davies on the big Hammond, Barb Fox - backup vocals, Robert Gervais - bass, Garry Smith - drums, Jim Strange - lead guitar (TMIB look-alike) , and Trond J. Strøm - front man - vocals.
As TJS grabbed the mike and let out a heart stopping scream, the crowd settled in to the groove of the evening as they knew that THIS was the reason they came. "L,OL" started slowly enough with the melody developed by Mark. Then Smithy brought up the beat with a familier MWFT beat. The Strange Man joined in, stealing the haunting lead melody from Mark as Robert kept the bottom booming, no matter how wild the action was "up front". Big Trond started the first verse smoothly but could he hit those high studio notes during this live performance? The answer soon came as Trond belted out the chorus as the crowd went wild. He sounded just like he did 25 years ago. Then the sweet voice of Barb echoed the chorus as Trond bridged to the second verse. After the second verse of "L,OL" finished, the Strange Man went into his solo with the speed of a runaway freight train. As he careened out of control Mark stole the show with his trademark keyboard riff. The whole time this madness was going on, Robert kept his steady bass line. Smithy just played as clean as ever and the whole thing blended into a crowd pleasing Great Tidings of Good Cheer and the fans were "sore afraid".
Upon completion of the song, the fans knew there would be no encore. How could anything top that? The crowd went away very happy and the "One Hit Wonder" known as "AMDPers Extraordinaire" drifted off into obscurity.
Cozmo (Jim)
---
Well, it's true that the AE didn't do an encore at the Garden but those of us lucky enough to be invited to the after-show party at the Holiday Inn in Newark, NJ got treated with this little ditty:
(Sung to the tune of "Walking in a Winter Wonderland")

Walkin' "Round in Women's Underwear

Lacy things the wife is missin', didn't ask for her permission
I'm wearin' her clothes, her silk pantyhose,
walkin' 'round in women's underwear

In the store, there's a teddy, with little straps, like spaghetti
It holds me so tight, like handcuffs at night,
walkin' 'round in women's underwear

        In the office, there's a guy named Melvin
        He pretends that I am Murphy Brown
        He'll say "Are you ready?" I'll say "Whoa, man,
        Let's wait until the wife is outta' town!"

Later on, if you wanna', we can dress like Madonna
Put on some eye shade, and join the parade,
Walkin' 'round in women's underwear

As if that wasn't enough we also managed to find a picture of the band at the after-show party. Reports tell us that the legendary "Snowman" was among the people greeting AE after the show. Some people even say that he's in this picture...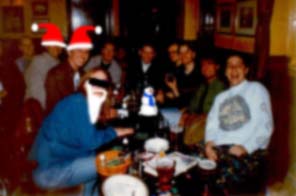 ---
[ songbook index | amdp index | the highway star ]