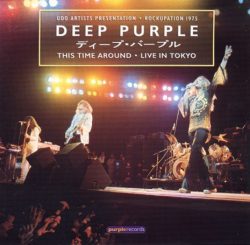 front of CD
Tokyo 1975
"This Time Around" is a completely revamped reissue of Deep Purple's last 1970s concert in Japan. The concert was recorded in an attempt to repeat the musical and commercial success of "Made In Japan". But not only were the tapes less than half as exciting as the ones made three years previously, the band also managed to break itself up a mere three months after the show. With their eyes firmly feasted on a fast buck, the management had the tapes quickly mixed and edited down to a single LP, aptly titled "Last Concert In Japan". It only included a third of the concert and several tracks were heavily edited to fit the time constraints.
Now the tapes have been fully remixed and all edits restored, and we are able to hear exactly what Deep Purple Mark 4 sounded like on that last fateful world tour that eventually blew the band to pieces.
"We went around the world, unravelling the reputation of Deep Purple wherever we played."
- Jon Lord 1995
The tour started auspiciously with a warm-up date in Hawaii and two in New Zealand. Glenn Hughes remembers the Honolulu gig fondly, but also acknowledges things were about to change dramatically:
"Myself and the band had a great time on stage with our boy Tommy. Having a new guy always brings a new feeling and we became closer as a unit that night. But more would be revealed as we trudged down the road of destiny."
- Glenn Hughes 2001
The two shows in New Zealand were the band's first visit to the country. In Auckland David Coverdale made a big deal of the local promoter's insistence that no swear words must be uttered from the stage - substituting every swearword with the word 'condom'! Although it was early days still, the band's version of Tommy Bolin's solo track "Wild Dogs" was already crisp and accurate. By the following Australian dates reviews were mixed, and Bolin had started to veer away from the band's advice that he perform the old songs faithfully to the original version.
"I could break a string playing "Smoke On The Water" or any of the old stuff and it wouldn't matter because people have those songs so firmly fixed in their heads they just fill in any gaps."
- Tommy Bolin, Australia 1975
"This Time Around" juxtaposes perfectly with "Space Vol 1 & 2" also released recently. That album features a bootleg recording of Deep Purple Mark 2 in Aachen, Germany from July 1970. The difference between the two albums could hardly be more crass. In 1970 Deep Purple was an innovative and exciting band creating musical chaos based on an unstopable urge to experiment and genuine enthusiasm. By 1975 the key words were still 'chaos' and 'experiment'. But the experiments were of the substance variety, carried out backstage. The musical chaos was involuntary as the lack of a united direction within the band made their eagerness to be musically daring sound like a shambles. Deep Purple had grown apart and sounded tired and finished. (Glenn Hughes insists the footage of the Tokyo show reveals him rushing off stage to vomit!)
Tommy Bolin was often blamed for the chaos and his performance on "This Time Around" certainly leaves a lot to be desired. The album is an important release in any dedicated Deep Purple fan's book - if only for it's legendary infamousy. Rumours have circulated over the years on what exactly happened. The general belief was that Bolin shot a bout of bad heroin up his left arm, causing it to go numb and reducing his performance ability to a minimum. Bolin himself claimed the arm was numb from having slept on it. The sleeve notes in the CD claim neither is true. The Tokyo show is supposedly the best on the four-show Japanese tour. If so the recording doesn't back it up.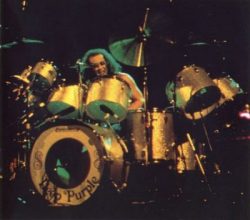 onstage in Tokyo
Always the one to deliver the goods, Ian Paice is absolute dynamite throughout, perpetually propelling the band forwards. His powerhouse solo in "Lazy" walks all over Bolin's sporadic contributions. Jon Lord's almost 10-minute solo (faithfully restored after the hatchet job it was subjected to in 1977) is one of the album's (few) musical highlights. The spine-chilling and majestic sound of his Hammond is next to none. Already on the 1977 LP release it was obvious he was carrying the show musically, and if anything on this CD justifies its release, it's Lord's performance. His solo spot is peppered with inspired snatches of classical pieces. It seques into "Lazy" which almost falls apart at the intro due to Tommy's jazzy approach. It may have been how he intended it, but it's not very convincing.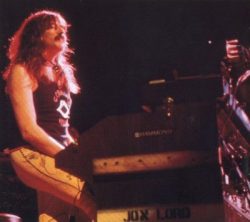 onstage in Tokyo
"Love Child" is exactly as strong as it sounded on the original LP, sporting a(nother) superb and never-ending solo from Lord. One of the album's redeeming features is the fresh setlist that saw Mark 4 perform an impressive 8 our of ten songs off the new album, "Come Taste The Band". "Gettin' Tighter" is the perfect case in point. It often contained Mark 4's best onstage efforts and here is chugs along nicely, including some of the album's finest multi-style improvisation. Glenn Hughes displays his fabulous voice - but he does it with enough vocal acrobatics to drive anyone up the wall. David Coverdale sounds positively struggling at times and his between-song banter is uninspired and nothing more than basic commentary. The few Mark 2 songs they do together aren't even worth mentioning.
The album has come about through the collected efforts of Simon Robinson's Deep Purple Appreciation Society (DPAS) in Sheffield, England. Other manufacturers of Deep Purple archive/live CDs should take note of the attention to detail shown here. The booklet carries extensive liner notes (which do suffer from not having been penned by Robinson himself) and plenty of archival photos and memorabilia. However, "This Time Around" remains an unjustifiable musical shambles unlike any other release previously affiliated with the DPAS, and Tommy Bolin fans are well advised to avoid it. Recommended alternatives include "Days May Come" and the live album "On The Wings Of A Russian Foxbat" from the 1976 US tour where Bolin felt more at home.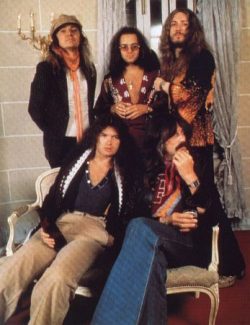 during press shoot in Japan
Submit your own review of "This Time Around"
With thanks to Pär Holmgren.
All photos from the CD booklet are © Purple Records