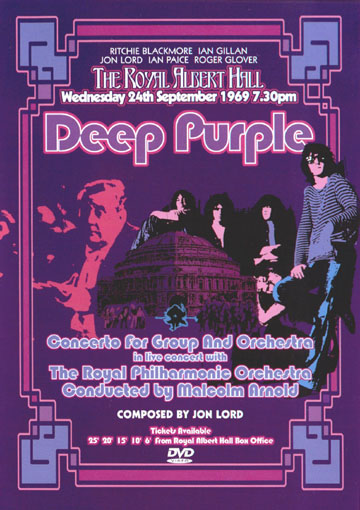 The original performance of Jon Lord's Concerto For Group And Orchestra at the Royal Albert Hall on September 24, 1969 finally sees a DVD release. Apart from the remarkable Concerto itself, the DVD's main attraction is an excellently witty and informative commentary track by Jon Lord himself, running the full length of the Concerto. Other bonus features includes contemporary footage with interviews with Jon and conductor Malcolm Arnold, a contemporay photo gallery and the unreleased encore from the show.
All in all a very satisfactory release - that is, if you can ignore the four-and-a-half minute chunk missing from the middle of the First Movement. This was apparently edited out to fit the original broadcast of the show into a specific time slot and has sadly never been restored. So, in this respect, the DVD contains exactly the same as the original VHS release of the show.
The 1969 Concerto has also recently been re-released on DVD-Audio and a 2CD set, which include Malcolm Arnold's 6th Symphony (which opened the evening's proceedings)(DVD-Audio only) and Deep Purple's three-song solo set which preceded the Concerto. More details on the different formats.
Did you buy this DVD? Please send us your reviews
This special last updated January 9, 2003