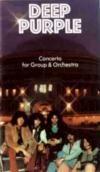 Original Issue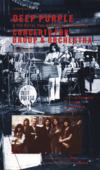 Connoisseur Issue


US/Japanese Issue
People: Deep Purple Mk IIa [that is, Ritchie Blackmore (gtr), Ian Gillan (vcl), Roger Glover (bss), Jon Lord (kbr) and Ian Paice (drm)] together with the Royal Philharmonic Orchestra conducted by Malcolm Arnold. Engineered by Dave Siddle and Martin Birch. Video produced by Tony Edwards.
The Concerto was originally aired live by the BBC, and it was released on album already in 1970. The entire performance included three DP tracks (two of which were later included on the CD release) and a modern-classics composition by Malcolm Arnold -- all of which preceded the actual Concerto.
Recorded live on 24th September 1969 at Albert Hall in London.
CONTENTS
Intro: some cuts from the rehearsals plus pieces of an interview with Lord
First movement: moderato allegro (Lord)
Slighty edited during one of the orchestral parts.
Second movement: andante (Lord, with lyrics by Ian Gillan)
Third movement: vivace presto (Lord)
Slighty edited during Paice's drum solo.
(The Concerto was subsequenbtly re-recorded in September 1999 with the London Symphony Orchestra conducted by Paul Mann -- available on video/DVD as well as CD.)