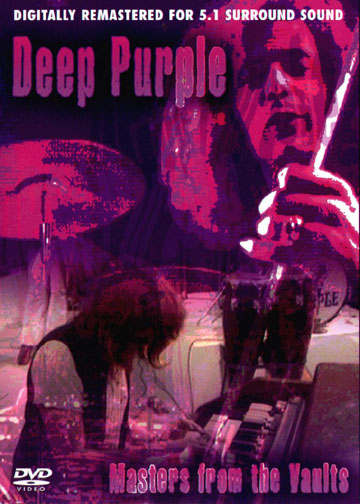 Mandrake Root Improvisation - DTT 1970
Speed King - DTT 1970
Hush - not included!
Child In Time - DTT 1970
Wring That Neck - DTT 1970
No No No - Beat Club 1971
Hallelujah - Beat Club 1969
Highway Star - Beat Club 1971
When A Blind Man Cries - Ian Gillan 1990
Demon's Eye - Ian Gillan 1990
Lucille - Ian Gillan 1990
Smoke On The Water - Ian Gillan 1990
Classic Rock Legends have done it again. Masters from the Vaults is yet another example of the label's unscrupulously cheap handywork. This DVD is supposedly sold at a special low price. Of course! How else could the label possibly peddle such a poorly designed collection of previously issued material in poor packaging so obviously disrespectful of its own contents?
A quick look at the back of the DVD reveals a list of tracks which ultimately disappoints. "Firstly, Hush is listed but does not appear on the disc," writes our reviewer Nigel Bond. Read his full review.
The Deep Purple footage stems from two classic Deep Purple sessions; Doing Their Thing (July 14, 1970) and Beat Club (August 2, 1969 and September 1, 1971). The three Beat Club tracks were previously released on the DVD EP last year. The Doing Their Thing footage, manificient and spellbinding as it is, was previously available on VHS retail cassette
The only redeeming aspect of Masters from the Vaults is that it is the first DVD release of the much covetted Doing Their Thing footage. However, it would have earned Classic Rock Legends respect rather than contempt if they'd treated this fantastic footage with the respect it deserves. Sloppy sequencing and obtrusive editing makes for a frustratingly poor release.
The four Ian Gillan tracks tagged on at the end are completely out of context. They were filmed at a Nottingham TV studio on August 24, 1990 and have all been available since March 2002 on another Classic Rock Legends DVD, imaginatively titled Ian Gillan Live
The Deep Purple Appreciation Society is supposedly working on a Deep Purple DVD, which will cover much of the known 1970s footage out there. Doing Their Thing is a natural inclusion there. Whether you have the patience to wait for this is a different kettle of fish.
Did you buy this DVD? Please send us your reviews
This special last updated November 26, 2003
Scans by Nigel Bond