Reviews:
- the DVD
Kalle Johansson
Chris Parsons
Ivica Lukenda
Rich Franz
Paul Harris
Jim Corrigan
Del Ferguson
Blackers
Jason Halvorsen
Stephen Berg
Nick Naylor
Petry Volker
Eric Eisenstein
- the gig
Reviews
Pics
Gillan
Glover/Morse
Glover
Gillan/Morse
The Band
Backstage
Discuss it
Purple Forums
Buy It


Buy from Amazon.co.uk
DVD / VHS

Buy from Amazon.co.jp
DVD (Region 1) VHS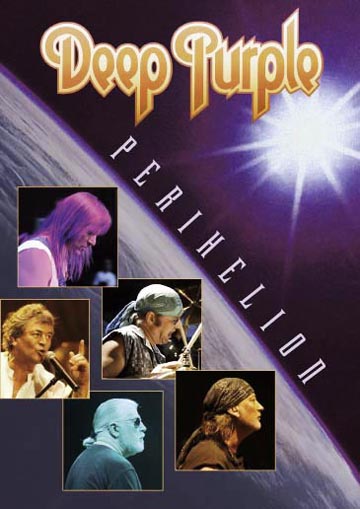 Not anther bloody live DVD release they cry? I'm afraid so. Is it worth it? The answer as always, is yes. Sorry, that's the way it is with these guys. They get better and better and this is also the last (so far) official release with Jon Lord on keyboards.
With a setlist that can only be desribed as conservative, with nothing of the excellently heavy Abandon CD, they still manage to slip in a couple of surprises including Mary Long and a little tribute to Tony Ashton in Jon's solo. Anyhow, the setlist:

Woman From Tokyo
Ted The Mechanic
Mary Long
Lazy
No One Came.
Sometimes I Feel Like Screaming
Fools
Perfect Strangers
Hey Cisco
When A Blind Man Cries
Smoke On The Water
Speed King
...and ending with what could be described as two beginnings:
Interspersed in that lot are solos all round and a lot of the usual noodling.

Recorded at the Sunrise Theater in Florida on June 5, 2001, our contemporary reviews say it was a cracking performance. Definitely worth a look.

Please remember to send us your reviews

This special last updated September 12, 2002
Donor Section






Subscribe to:
The Highway Star Update!
Participate in:
Purple discussions
Join the:
Mailing lists
Purple Tours
Tour Dates
Tour Reviews
Purple Music
Shop
Upcoming Releases
Discographies
Lyrics/Tabs
Sound Archives
MIDI Archives
Movie Archives

Other Sections
News
Frequently Asked Q's
Image Gallery
Purple Contributions
Interviews
Special Features
Editorials
Bios/Family Tree
Newsgroup/IRC
Joanna's Gossip
Links
Who To Blame